10. MET
MET Technologies (CyQ've)
This year MET displayed at its booth a new 4x DVD recorder able to read and write Dolby Digital audio . It is based on the Ricoh chipset for the optical part of the construction. The drive at the exhibition (PV-2400i) used RW 5125 for demonstration proposes but the shipping version will use a new advanced design offering full 4x recording. As you might know PC drive trays are shorter by those normally used by consumer DVD/CD players. So the use of special design in the latter case is necessary.
Below you can see the 2 chips from Cirrus Logic which offer encoding/decoding functionality for the DVD audio/video streams.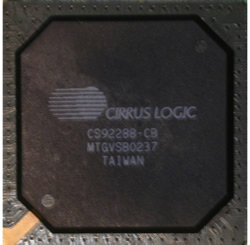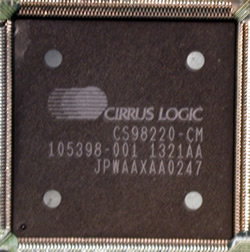 The PV-2400i supports real time recording from various sources, such as TV, Digital Camcoders through FireWire, S-Video and other analogue connections.
Below you can see the drive's interior.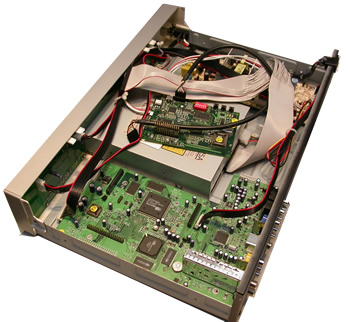 Heat is a problem for most DVD recorders and affects both the quality of recording and the life of the laser diode. Special precaution has been taken by the MET engineers for designing a power supply without a need for a fun. We wonder if this will be the case for the shipping version, though... (expected within the next 2 months, at an estimated street price of about 500 euros).