31. Sony
Sony
Sony demonstrated the already known DRU-500AX and its external brother DRX-510ULX. Both drives offer the same advanced specifications, while the external drive supports both USB 2.0 and and iLink interfaces.
The new DRX500ULX burns DVD+R, DVD+RW, and even CD-R/CD-RW discs:
- High speed writing on 6 formats: DVD+RW 2.4x, DVD+R 4x, DVD-RW 2x, DVD-R 4x, CD-RW 10x, and CD-R 24x
- Easy high speed connectivity with desktop or mobile PCs with i.Link and USB 2.0.
The DRU-500AX is currently available in a suggested price of approximately € 400, while the DRX-500ULX at € 600.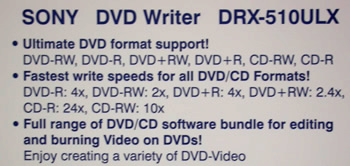 Sony also demonstrated a stand alone DVD recorder. The SONY RDR-GX7 is a dual RW compatible drive, offering both DVD+RW and DVD-RW/-R recording, (DVD+R excluded) and high speed playback compatible with existing DVD Players.
The user can easily connect his Camcorder through the @i.LINK (DV terminal) and perform directly various editing functions. Other interesting features of the RDR-GX7 is the High Picture Quality mode, the Pre Frame Noise Reduction system, and the Post Field Noise Reduction . The device is also equipped with a 12bit/108MHz Noise Shaped Video D/A Converter and RGB input. The RDR-GX7 will be available across Europe from April 2003 onwards.