16. Mitsumi
Mitsumi
This year Mitsumi demonstrated new DVD+RW recorders, CD-RW drives, BlueTooth modules and (of course) floppy disc drives.
The company is the first to announce a 54x CD-RW recorder. The CR485FTE supports 54x writing, 32x CD-RW writing and 54x reading. AegisWrite feature ensures safe writing operations, along with the ExacLink buffer underun protection and Mt Rainier compliance. The drive is (obviously) based on the latest MediaTek chipset.
The current CR487ETE 52x CD-RW recorder by Mitsumi could not be missing from the booth.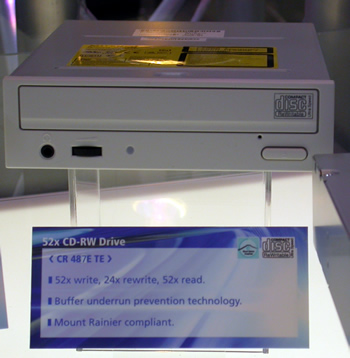 The following SR244W1 is a 24x slim CD-ROM dedicated for notebooks and compact desktop PCs.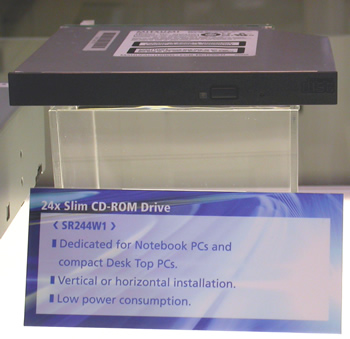 Mitsumi has chosen to support the DVD+RW format with its first recorder. The DW 7800TE supports 4x DVD+R/RW writing and 16x DVD reading. of course the drive is a 40/32/40 CD-RW recorder as well.
The DW 7801TE is the second Mitsumi DVD recorder, supporting 4x DVD+R and 2.4x DVD+RW writing, 12x DV reading and offers 16/10/40 CD-RW features.
Mitsumi offers a wide range of BlueTooth modules, offering wireless communications based on the BlueTooth ver.1.1 specifications. The modules offer data transmission between printers and PCs, digital cameras, cell phones and many more, at speeds that reach up to 720kbps.
External floppy drives and USB Media Drives are very handy, especially for the notebook users. The new FA401 supports 8 types of media, such as floppy discs and memory cards, and offers fast transfer rates to your notebook through the USB interface. The device is also powered from the USB bus itself with no need of an additional power supply (unless you add more peripherals on the same bus).