2. AccessTek
AccessTek
A company founded in August 2000 and since then experiencing a constant growth and expansion in the areas of optical technologies.
AccessTek demonstrated its first DVD+R/RW product in CeBIT this year. The drive supports 4x DVD+R and 2.4X DVD+RW writing speeds and according to the company, a future firmware upgrade will add support for writing to 4x DVD-R /RW media, as well. The recorder also supports 12x DVD-ROM reading for pressed media and 4x reading for recordable and rewritable DVD disks. Of course, the drive is also a 24/12/40 CD-RW recorder. Availability of the drive in large quantities is expected in two months from now.
In the following picture you can see the laser pickup mechanism of the new drive. This particular pickup will also equip the upcoming dual DVD-R/+R drive, as well, with not any other special modification.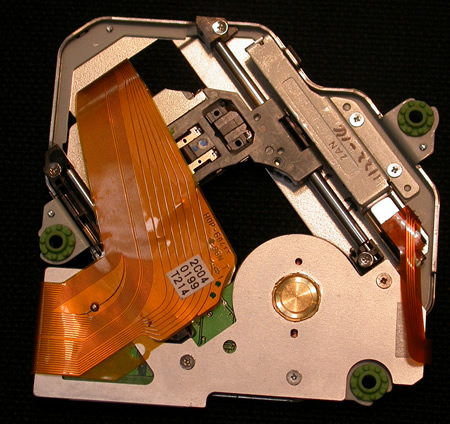 The new CD-RW recorder from Accesstek will support 52x CD-R writing, 32x (Ultra High Speed) Re-Writing and 52x reading. The 32x rewriting format is not yet an official standard but many manufacturers have chosen to support it in their upcoming drives. The format is expected to be standardized by June/July of this year.
A new combo drive was also demonstrated by Accesstek. It will be a 48x CD-R, 24x CD-RW and 48x CD-ROM with support for 16x DVD-ROM reading.
Last but not least, the new 52x32x52x external drive offers easy and fast installation through USB2.0 and will be available in three different designs according to your personal tastes. Take a quick photo preview below.