5. Waitec
Waitec
Waitec was established in 1994. Initially specializing in optical storage products, the company currently also offers MP3-CD players, LCD monitors, digital cameras, CD media, DVD home players and other accessories.
Waitec is among the few companies that demonstrated a multi- format DVD recorder. The "ACTION 4" model supports both DVD+R/RW and DVD-R/RW writing at 4x speed, and 12x DVD-ROM reading. The drive is also a 32/24/40 CD-RW recorder. In the following picture you can see the new drive.
Waitec also offers a DVD+R/+RW drive, supporting 4x writing speeds.
The new "VISION" model is illustrated in the following picture. It is an external USB2.0 DVD and CD reader, capable of reading your DVD discs at 6x and your CD-R's at 24x speed. The player also supports MP3 playback, the VCD and the S-VCD formats. In addition, it's component video and S-Video outputs along with the digital audio output will let you connect the device to your TV set in order to watch your favorite movies.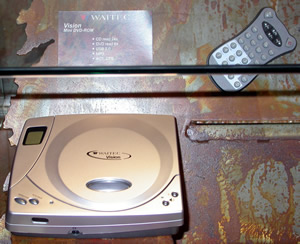 External slim drives are usually very handy when you work out of office with your laptop and need a fast and reliable writer or reader. The STORM 16SL is a light-weight 16x/10x/24x/8x combo drive supporting both the USB2.0 and IEEE1394 interfaces.
As for the CD burners, Waitec demonstrated the already known "FRISBY II" which is an external USB2.0 recorder supporting 40x CD-R, 24x US-RW writing and 40x reading. Of course, the fastest recorder in the Waitec's line is the "STORM 52" and it is also demonstrated during CeBIT 2003.
The always expanding consumer demand for digital cameras has brought many manufacturers into the market. Many launch new cameras in order to have a decent share in the market. Waitec offers a wide range of digital cameras with the CADDY line. The leading model is currently the CADDY 238, offering a 2MPixels resolution. But the model which seems that will mainly attract consumers seems to be " CADDY 06", which can easily be held between two fingers as its dimensions are just 56x56x21 mm and weights less than 30gr! The maximum supported resolution is VGA at 1024x768 and it can be easily connected to your PC through a USB2.0 interface. Waitec cameras mostly focus on end users with affordable prices and attractive designs: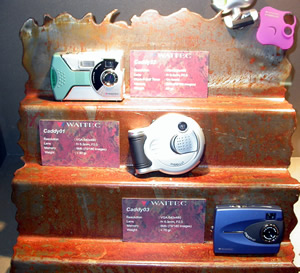 MP3 / CD players were also demonstrated, as you can see in the pictures below:
Another very interesting product is the FUSION USB flash drive. The flash memory offered is 128MB maximum, with a built-in MP3/WMA player and an FM tuner, allowing playback of more than 5 hours! The USB1.1 supported interface offers battery rechargeable function when connected to your PC, for fast and cheap operation. This is a product you must have!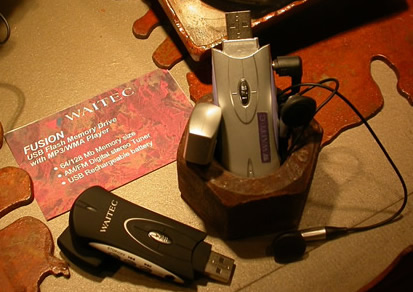 In the same booth we had a chance to see the new Waitec stand alone DVD-ROM devices and a DVD Home Theatre system complete with its speaker subsystem offered, as we were informed, at a a very affordable street price.