12. BenQ
BenQ
BenQ, an Asus outspin, presented a wide range of products this year. From LCD and CRT monitors, to plasma displays, digital cameras, scanners and mobile phones. BenQ offers solutions for home and office use. Coming to the optical storage stands, we saw the latest 48x and 52x CD-RW recorders. The company plans to offer the 32x CD-RW writing speed in a newer 52/32/52 drive.
All the CD recorders will be available in their external versions as well. In the following picture you can see the 5224EU model.
BenQ demonstrated two different DVD recorders, the 4212VR DVD-R/RW and the 4212DW DVD+R/RW drives. The 4212VR drive supports 4x DVD-R and 2x DVD-RW while the 4212DW offers 4x DVD+R and 2.4x DVD+RW. Both drive support 12x DVD-ROM reading and 16x CD-R writing. In the picture below you can see the external version of the DVD+R/RW recorder.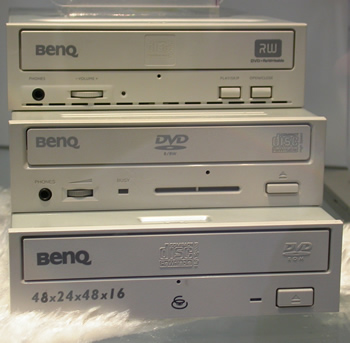 Illustrated above, 1648C is a combo CD-RW and DVD-ROM drive supporting 48x CD-R and 24x CD-RW writing, 48x reading and 8x DVD-ROM reading. In the same picture you can also see the internal versions of the already mentioned DVD+R/RW and DVD-R/RW drives.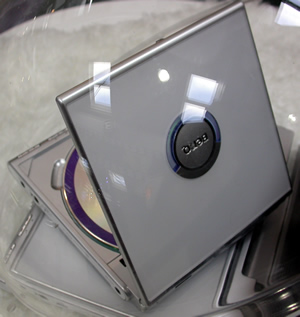 Stylish DVD+R/RW stand alone recorders were also demonstrated in the BenQ booth.