29. Samsung
Samsung
Samsung demonstrated its latest CD-RW recorder, the SW-252. The drive supports 52x write, 24x rewrite and 52x read.
The Samsung DVD Multi Recorder SR-T03 supports 2x DVD-R, 1x DVD-RW, and 2x DVD-RAM writing speeds. The supporting reading speeds are 2x for DVD-RAM, 6x for DVD-R/RW and 12x DVD-ROM. In addition, the drive is a 12x/8x/32x CD-RW recorder.
In the following picture you can see the SD-816 Multi-Read DVD-ROM drive, which supports 16x DVD and 48x CD reading. The drive reads DVD-R/RW, DVD-ROM and DVD-RAM discs.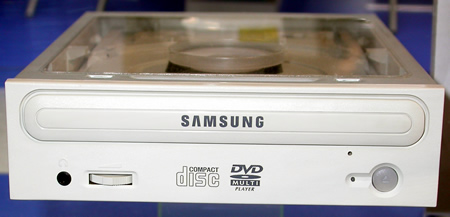 Samsung has also developed fast CD-RW/DVD combo drives. The SM-352 illustrated below is a 52x/24x/52x CD-RW plus a 16x DVD-ROM:
The SN-324 slim drive for notebooks combines CD-RW and DVD-ROM drives into one mechanism. The recorder supports 24x writing, 10x rewriting, 24x reading and 8x DVD-ROM reading.