8. Primera
Primera Technologies
It is well known that Primera Technologies offers a broad range of automated CD/DVD duplication and printing products. In CeBIT this year the company demonstrated new entry-level CD/DVD duplicators, like the new Bravo Disc Publisher, as well as some other disc publishing systems and disc autoloaders. The new Bravo uses either a 52x LG CD-RW recorder or the Pioneer DVR-A05 DVD-RW drive for CD/DVD recording. The device can print on 25 discs per job at resolutions up to 2400dpi, using a Lexmark printing head.
The fully automated auto loading systems offer fast and easy publishing jobs and can be proved ideal tools in the hands of professionals for promotion and general marketing proposes.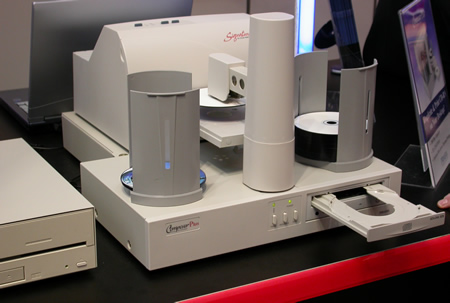 The ComposerMAX is the top product of Primera and supports up to four CD-RW or DVD recorders. The device offers publishing of up to 400 discs per job.