26. Plasmon
Plasmon
Plasmon, a leading provider of a wide range of automated data storage solutions, demonstrated this year at CeBIT a working prototype of its new 30GB, Ultra Density Optical (UDO) drives and media. UDO is about to become the next generation standard on 5.25-inch optical drive technology, replacing the existing magneto-optical (MO) base of drives and discs of the same diameter. We were able to see at the company's booth world's first working blue-violet laser optical disk drive. It supports the new UDO disks and it is developed for professional data storage markets, covering archiving, document imaging, call centers, email archiving, GIS, medical, telecom, banking, insurance, legal and government. The new drive delivers the performance of the older 5.25" MO drives, the longevity of 12-inch True WORM (Write Once Read Many) and the cost effectiveness of a DVD solution.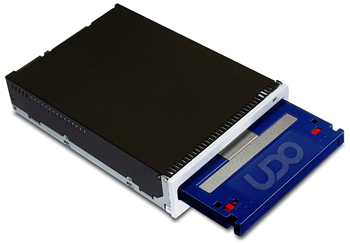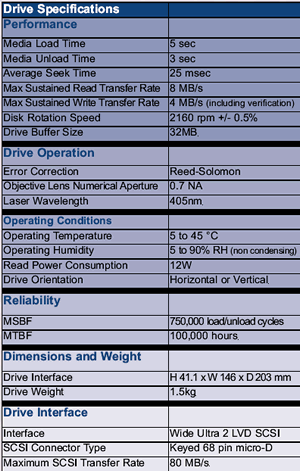 UDO uses 405nm blue-violet laser and phase change technology adapted from the Blu-Ray DVD-type products. UDO drives operate with a 8KB sector size with direct overwrite capability. When writing data to Rewritable and Write Once media, the UDO drive uses only two passes: write and verify.
Phase Change technology is based on a specially designed recording layer that can exist in both amorphous and crystalline states and is transformed between these two states by the heat from a precision laser. UDO's blue violet laser is focused through a 0.7 numerical aperture (NA) lens, which generates a very small spot on the recording layer, transforming the state of the media and creating a data mark. The same laser operating under a lower power reads these data marks. Phase Change recording is a totally nonmagnetic process, providing very stable data storage that is completely impervious to damage from magnetic field exposure and bit drift.
UDO drives read/write data to the media while spinning at a Constant Angular Velocity (CAV). The drive is capable of managing different data rates as the optical head moves from outside tracks (higher speed) to inside tracks (lower speed).
UDO drives make use of enhanced Reed-Solomon Error Correction Code (ECC) and Erasure Correction algorithms to ensure that data can be accurately read from the media despite physical defects or contamination (defect correction). The combination of these two techniques provides a 4x improvement in ECC handling over MO drives. UDO drives have also implemented an optimized read-ahead defect handling methodology that provides much greater performance when managing secondary media defects.
The media cartridges are dimensionally identical to current 5.25" MO, providing compatibility with the existing 5.25" library automation machines and robotics.
Both WORM and rewritable media will also be available. This first generation product provides 30GB capacity and a fast data transfer rate of up to 8MB/s. Future generations of drives and media will increase the usable capacity of discs to 60GB and 120GB. Backward read capability will be maintained throughout the whole product roadmap.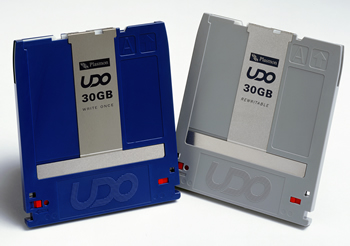 In the following picture you can see the UDO disc inside the cartridge: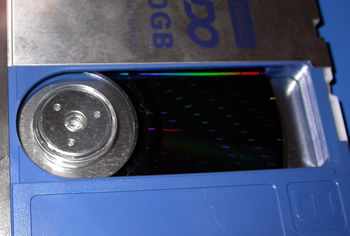 More information about the UDO technology will be available soon from our site.