23. Panasonic
Panasonic
Panasonic demonstrated the latest DVD-RAM recorder, the LF-D521. The drive supports 2x writing of DVD-R and 4.7GB DVD-RAM media, 1x writing on DVD-RW and 2.6GB DVD-RAM discs, 12x DVD-ROM and 6x DVD-R/RW reading. This multi-recorder supports also 12x CD-R and 8X CD-RW writing, along with 32x CD-ROM/R reading. More information about the drive will be available in one of our upcoming reviews.
The LF-D560 is the external USB 2.0 version of the LF-D521.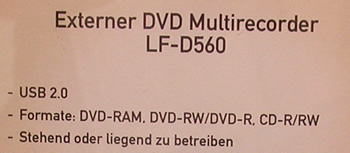 Panasonic offers a wide range of DVD-R and DVD-RAM discs. The LM-AD240 series is a 9.4GB double-sided disc, able to hold up to 240min of high quality video. The LM-AB120 offers 4.7GB of capacity and is available with a protective cartridge, while the LM-AF120 4.7GB comes bare.
In the following picture you can see the DMR-E50 DVD Video Recorder. The recorder can write up to 12 hours of movie in EP mode, on 9.4GB DVD-RAM discs. In addition, it can also write up to 6 hours of optimal quality video on DVD-R discs. Playback of DVD-RAM, DVD-R, CD, CD-R/RW and MP3 is included in the capabilities of the DMR-E50.
As many other Panasonic devices, the DMR-E50 supports the "Time Slip" function. This means that user is able to read the data on the DVD-RAM disc although another writing process is still in progress.

The DMR-HS2 DVD Video recorder can store up to 8.5 hours of High Picture Quality video on the 40GB built-in hard disk. The recorder supports all the features already mentioned previously concerning the DMR-E50, and additionally offers a SD card slot in order to copy images from your digital camera to a DVD-RAM or to the hard disk. Recording from your DV camera is also automated and easy to maintain, through the DV input terminal on the front panel of the device.
The NV-HVH1 model, in the picture below, can store your favorite VHS tapes in the built-in 40GB hard disk. The disk can store up to 40 hours of High Fidelity video.