9. ReWritable Products Promotion Initiative (RWPPI)
ReWritable Products Promotion Initiative (RWPPI)
RW Products Promotion Initiative is a group actively involved in developing and promoting DVD-R/RW media and the related products. RWPPI was founded by 12 companies and membership since its establishment in May 2002 has now increased to include 50 companies.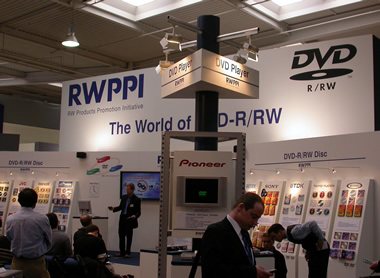 The group recommends standard product specifications for the DVD, such as labeling for standard disc recording time, VR/RW disc play function, etc., while it focuses on the verification process of recording/playback compatibility between discs, DVD recorders, and players. It also offers consumers information about the DVD-R/RW format through partnership promotion of the DVD-R/RW and related products. It also participates in major shows worldwide.
In CeBIT the group presented some of the latest products of the main companies supporting the RWPPI, such as Pioneer, Sharp, Samsung, NEC and Sony, along with many new DVD-R/RW media. Live demonstrations of the basic usage of these media in the recording and authoring process and general information about the format's merits where scheduled every day and took place in the RWPPI booth.
New 4x DVD-R/RW discs from JVC, Maxell, Prodisc, FujiFilm and many other manufacturers were available in the booth, as shown below.
DVD players form Pioneer and Sharp where continuously playing DVD-R /RW videos in large plasma screens with an increased picture quality.

The latest multi recorder from Sony, the DRX-510ULX and the well-known Pioneer DVR-A05 were there to complete the wide range of the DVD recorders supporting the DVD-R/RW format.