33. Toshiba
Toshiba
Toshiba demonstrated a new DVD-R/RW recorder. The SD-R5112 supports 4x DVD-R, 2x DVD-RW writing and 12x DVD-ROM reading. The drive also reads DVD-RAM discs at 2x, and DVD-R/RW at 4.8x. Concerning the CD format, the SD-R5112 is also a 16x/10x/40x CD-RW drive.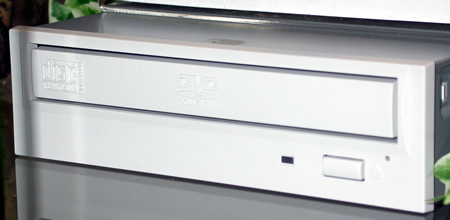 The SD-R6012 is a slim line DVD-R/RW recorder for notebooks. The drive supports 1x DVD-R/RW , 16x CD-R and 10x CD-RW writing. The available reading speeds are 8x DVD-ROM, 24x CD-ROM and 2x DVD-RAM Ver. 2.1/1.0.
USB Card readers and PCMCIA hard disk drives are also included in the Toshiba product line. The PCMCIA 1.8-inch hard disk is a compact card, allowing storage of up to 2GB or 5GB of memory. The size of the card offers very high portability and easy carrying even in your pocket! The average seek time is only 15msec and maximum operating shock 200G.