17. BTC
BTC
BTC demonstrated its latest internal combo drive, the BCO4816IM. The drive supports 48x CD-R and 24x CD-RW writing, 48x CD-ROM reading and 16x DVD-ROM reading.
The new BCP 8000U is an external 40/12/48 CD-RW drive, supporting (optionally) the USB2.0 or the IEEE 1394 interfaces.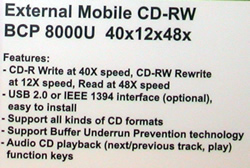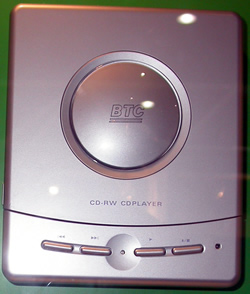 In the picture below you can see the new BCO 2408SM combo CD-RW/DVD drive for notebooks. The drive supports 24x CD-R and 12x CD-RW writing, 24x CD-ROM reading and 8x DVD-ROM reading.