7. AOpen
AOpen
Aopen currently offers a wide range of products ready to cover every user need for affordable and reliable PC components, motherboards, graphic cards, PC cases, optical storage solutions and other peripherals.
Concerning the optical storage products, the company demonstrated a new DVD+RW recorder, a combo drive and the already known 52x CD-RW and CD-ROM drives.
The new AOpen DRW-4410 is a 4x DVD+R/RW recorder and is expected to hit the market in the coming two months. The drive also supports DVD-R/RW writing but this will be available through a future firmware upgrade. Of course, this drive is also a 24/10/40 CD burner.
COM4012 is a 40/12/40 CD-RW recorder and a 16x DVD-ROM reader.
The well-known AOpen CRW5224 is now available in two versions with a black or silver front bezel.
The same drive is also available in an external version. The EHW-5224U has a USB2.0 interface for fast plug-and-play to your PC.
A different but very useful device is the new "Disc Steno CP100". This is a stand alone portable digital backup device allowing transferring of data from various types of memory cards to CD-R/RW discs without a need of any computer involved in the transaction.
For all the PC gamers, the following product will definitely be an interesting component. It is a cold cathode fluorescent lamp, which is easily connected to your PC when playing your favorite game and it lights up according to the sound action of the game. As the sound becomes louder, the lamp lights up more. This is a smart way to make your playing more realistic, isn't it?
Cathode tubes are back in the surface of our high-tech era with the new line of AOpen Tube motherboards. This line of boards supports both the Intel and AMD CPUs. They are equipped with a vacuum tube in order to offer full gaming experience by increasing the quality of sound out of the analog output of the built-in audio card. Note that audiophiles are very picky when it comes to tonality and the usage of the Tube amplification contributes to this argument.
Huge PC cooling fans are available by AOpen for smooth and unproblematic operation of your PC. Robust PC cases are also available to fit even the most demanding hardware.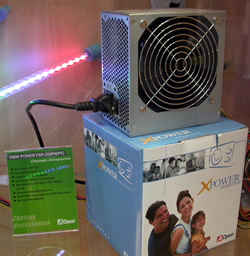 The following product is a portable PC equipped with ordinary components exactly the same components as those used on an ordinary PCs. User can change the internal parts easily and replace them with any other compliant units, fit the slim keyboard on the top and use it as a normal PC. In addition, he can upgrade the graphic module easily. The current supported graphic module is based on NV31 (nVidia chipset)-interface with MAP-17. LAN gamers could find this product very convenient due to the easy handling for transportation to the LAN arena, and enjoy full graphical details. We hope will be able to bring more information on this clever idea in the future.