14. LG
LG
LG is the first company to launch a multi DVD recorder supporting writing on DVD-R/RW, DVD+R/RW and DVD-RAM formats. The new GMA-4040B writes DVD-R at 4x, DVD-RW at 2x, DVD+R at 4x, DVD+RW at 2.4x and DVD-RAM ver.2.1 at 3x (ZCLV). The drive also supports 24x CD-R (Z-CLV) and 16x CD-RW (Z-CLV) writing. In the reading part, the GMA-4040B offers 12x DVD-ROM reading, 10x DVD-R/RW/+R/RW, 32x CD-ROM/R, 24x CD-RW and 3x DVD-RAM (Ver 2.1). The drive is expected to hit the market by June-July.
Another new product is the LG GCC-4480B combo drive. It supports 48x CAV CD-R and 24x PCAV CD-RW writing, 48x CD-ROM/R reading and 16x DVD-ROM reading.
The LG combo drive list continues with the LG GCC-4520B, which is a a 52x24x52 CD-RW and 16x DVD-ROM combo drive, expected to be available by April/May.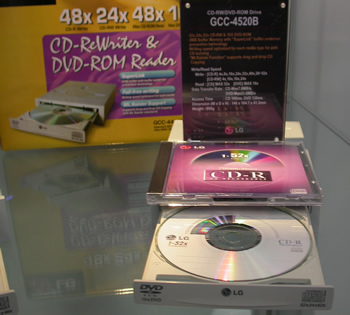 In the picture below you can see the new LG GCC-5241P. This is a portable CD-RW/DVD-ROM drive supporting 24x CD-R, 10x CD-RW writing, 24x CD-ROM/R reading and 8x DVD-ROM reading. The drive has a 2MB buffer and can be easily connected to notebooks and PCs through the USB2.0 interface.