28. Verbatim
Verbatim

Verbatim, a subsidiary of Mitsubishi Chemical Media, provides information storage products, computer and imaging consumables, and related accessories.
Verbatim is currently the only firm in the world that designs, develops and manufactures high performance, high quality CD-Recordable, CD-Rewritable, DVD-Recordable and DVD-ReWritable media products, a complete family of 3.5inch and 5.25inch MO media. Furthermore, the product range includes tapes, imaging products, digital devices and memory cards.
As a core member of the DVD+RW alliance, Verbatim demonstrated a great range of DVD+R and DVD+RW products. The company also supports the DVD-R and DVD-RW format and, of course, it keeps producing high quality CD-R and CD-RW media. In the following picture you can see the Ultra High Speed CD-RW disc which supports 16-24x writing speed.

To enable DVD recording at 4x speed, the parent company Mitsubishi Chemical Corporation has developed a proprietary recording dye technology which is based on the company's well known Metal AZO dye (which enables DVD+RW recording at 2.4x speed). This new dye, called Advanced AZO is used to produce a recording layer with an improved power margin and greater sensitivity that ensures stability at faster recording speeds.
Advanced AZO maintains the properties of the current Metal AZO dye and therefore can sustain 1x and 2.4x recording, meaning that the new 4x media is backward compatible with earlier drives.
Both Verbatim's 4x DVD+R and 4x DVD-R media are built upon this technology.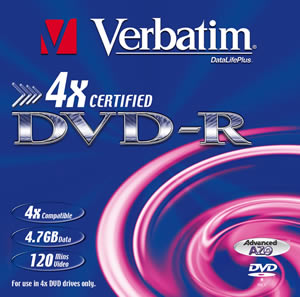 In order to facilitate 4x high-speed DVD re-writing, Mitsubishi developed a new technology based on an earlier version of the companies patented SERL (Super Eutectic Recording Layer) technology.
This new improved SERL technology provides consumers with a 50 per cent increase in burn speed. In essence, SERL ensures noise free recording time after time by taking the disc back to its original state. With conventional rewritable media, the recording layer deteriorates with every rewrite, meaning a decrease in quality. With Verbatim rewritable media, however, the recording layer is returned to perfect condition on every erasure, leaving a flawless disk for the next recording. SERL also enables this media to enjoy excellent archival stability and high-speed recording.
In the following picture you can see the Verbatim 4x DVD+RW media, available by June 2003. In addition 4x DVD-RW should already be available at your local stores.
Verbatim offers all types of DVD-RAM media. In the following pictures you can see the 4.7GB and 9.4GB double-sided media.