32. Teac
Teac
Teac entered the DVD recording market with the new DV-W50E. The drive supports 4x DVD-R, 2x DVD-RW writing, and 12x DVD-ROM reading. The CD functions are 16x CD-R, 8x CD-RW and 32x CD-ROM. The drive is also available ns an external USB 2.0/1.1 version, with the codename DV-W50PUK.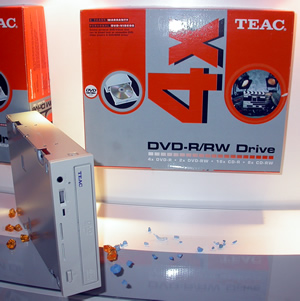 In the following picture you can see the fastest external USB 2.0 CD-RW drive from Teac. The CD-W552PUK is a 52x/24x/52x CD-RW recorder, already familiar to some of you from its ATAPI brother, the CD-W552E.
The DW-224E is a new portable CD-RW/ DVD-ROM combo drive. The drive supports 24x CD-R, 10x CD-RW writing, and 24x CD-R/ROM reading. The DW-224E can be connected to your PC through the USB 2.0 interface.
Teac demonstrated a new line of external USB 2.0 hard Disk drives. The available capacities start from 40GB up to 120GB. The USB 2.0 interface offers 480MB/s, allowing fast transfer of large files between multiple systems. The HD-35PUK is showed below.