Pioneer DVR-720H-s DVD Recorder
20. Copy Menu (DVD -> HDD)
Pioneer DVR-720H-s DVD Recorder
Copy Menu (DVD -> HDD)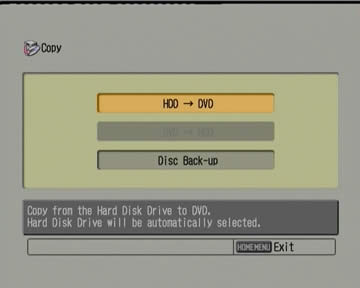 The DVD -> HDD menu option can be used to transfer video on DVD to the hard disc. So, many of you might think: "Great, I can store some movies on the hard drive, so that I won't have to swap discs, and create a small collection that I can frequently use". The news is not good, since in our tests we could not enable the option "DVD -> HDD" after inserting DVD-Video discs. It didn't matter whether the discs were or weren't CSS encrypted, region encoded or had Macrovision protection. The option would simply remain disabled.
So, after careful RTMing (Read The Manual) we found the reason. Quoting from the manual: " The DVD to HDD Copy screen is not accessible when a finalized Video Mode is loaded..." And since the only unfinalized discs would be the ones that are recorded on a device such as the DVR-720H-s, this option is restricted only to recordings made in such a way.
We inserted a disc used previously to transfer recordings from the hard drive, and we finally managed to unlock the "DVD -> HDD" menu.