Pioneer DVR-720H-s DVD Recorder
19. Copy Menu (HDD -> DVD)
Pioneer DVR-720H-s DVD Recorder
Copy Menu (HDD -> DVD)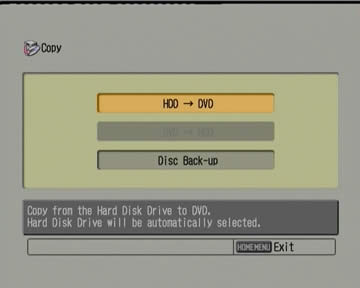 The copy menu can be used to transfer recorded video from the hard disc drive to a DVD recordable disc and vice versa. It can also be used to backup DVD discs.
This menu is displayed if the HDD -> DVD menu option is selected. Here we can select the recordings we want to transfer to DVD. There are many options that can customize the way they will be written to the DVD disc. The title names can be changed (Ttl Name option), we can edit the original recording and split it into parts or combine more than one (Divide, Combine). Finally, as soon as we're happy with the result, we can use the preview option to make sure everything is as intended.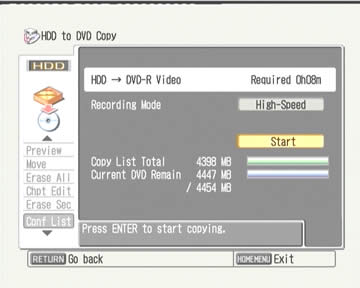 After selecting the "Conf List" menu option, we are presented with the above menu where we can change the recording mode and view some information about the recordable disc inserted in the unit. Total size of the recording, remaining DVD capacity, and the total capacity of the DVD disc are displayed.
Concerning the Recording mode option, the choices offered are the exact same ones that were discussed in the recording page previously. There is one exception: the High-Speed option. Using this option, the video is transferred untouched to the DVD disc, and at the maximum possible speed. The DVR-720H-s is equipped with an 8x capable DVD recorder drive.
That said, the total time for recording a full DVD disc that supports the 8x writing speed can be approximately 8 minutes. If one of the other options is selected (EP mode for example), the DVR-720H-s will change the quality of the recording to the desired setting, on the fly, while recording to the DVD disc. One drawback of this procedure is that the total time required equals the total playback time of the video selected for recording.
There is also an Optimized Recording option that calculates and sets the quality of the transfer according to the total recording time and the available space on the DVD disc.