Pioneer DVR-720H-s DVD Recorder
15. Chase Play Feature
Pioneer DVR-720H-s DVD Recorder
Chase Play Feature
The DVR-720H-s comes with a very handy feature, called Chase Play. Quoting from the manual: "a feature called Chase Play makes it possible to watch a recording in progress from the start of the recording.......In fact, you're not just limited to watching the recording in progress; you can watch anything else already on the DVD."
This feature is useful if for example we are recording a live show and have missed let's say the first 10 minutes. We can start watching from the beginning, while the recorder is recording the live video. Quite handy indeed! Bear in mind that this feature works only with DVD-RW discs.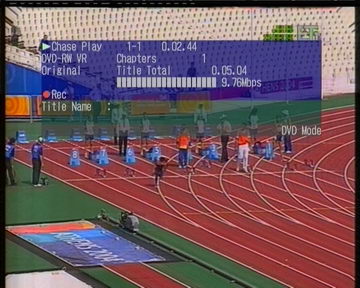 Notice in the last screenshot the two time displays. The one on the first line indicating 0.02.44 and the one next to Title Total indicating 0.05.04. This means that the DVR-720-s has already recorded 5 minutes and 4 seconds of video, while watching the recorded video at the time index of 2 minutes and 44 seconds.
Also note that the DVR-720H-s has the capability of recording to the hard disc and playing back a DVD disc simultaneously. While recording your favorite TV program on the hard disc, you can watch a DVD movie from a dvd disc inserted in the unit's DVD drive.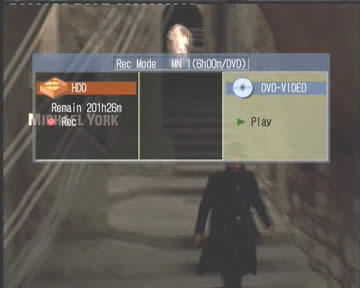 Another handy feature of the DVR-720-s is Disc History. The device remembers the recordable discs that have been used to record videos, and displays information about them. The information displayed is remaining recording time according to the selected recording quality, the titles of each recording in the disc (default value is the date plus name of the channel), and the disc label. This can be useful because you can see the contents of each disc you have used without actually inserting it. You can also see how much available space each disc has.