Pioneer DVR-720H-s DVD Recorder
14. Recording Options
Pioneer DVR-720H-s DVD Recorder
Recording Options
Recording video on the DVR-720H-s is as easy as the press of a button on the remote. You can record as much video as the disc can fit, or preselect recording durations in 30 minute increments. Of course, you can also program recordings using the Timer Recording menu .
The recording time that a blank DVD-R/-RW can accommodate depends on the desired quality of the video. As you can see from the screenshots below, the user can select between 32 different quality settings. The lowest setting corresponds to 1.73Mbps encoding bitrate, giving approximately 6 hours of recording time. The highest setting corresponds to 10mbps encoding bitrate, giving approximately 1 hour of recording time and naturally, the highest possible quality. So, according to the duration of the video you want to record, you can adjust the recording quality to make sure the disc will be able to fit the entire clip.
The DVR-720H-s also has a feature that can be enabled through the Initial Setup menu, named Optimized Recording. If this is enabled, then the quality setting is chosen automatically according to the desired amount of time that needs to be recorded on the disc. On the same disc you can use different quality settings for each recording, and the remaining time shown is always calculated according to the disc's free space.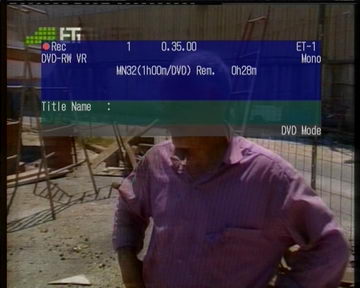 As you can see, at the highest quality setting (MN32/FINE) we managed to record 1 hour of video.