51. Blue Laser Devices - Page 1
Next Generation Optical Recording Devices - CeBIT 2005
Beyond DVD
The need for High Density recording is undoubtedly the driving force for introducing and promoting HD applications. Broadcast companies have been seeking for some answers to their problems, for digital bradcasting of HD content and of course, an appropriate format for efficient reception and transmission through ground channels for HDTV use. On the other hand, movie companies need a new format and media to store and distribute their HD content.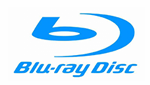 HD-DVD and Blu-Ray have both been proposed by the industry to fulfill the requirements mentioned above. Through their respective supporters, with advantages or disadvantages in each system, they are currently implemented by manufacturers in their recorders and players.

Many different opinions have been expressed and here at CeBIT 2005, the "hot" question regarding which format will dominate, is definitely circulating inside CeBIT's halls. Here, we do not intend to come up with an answer, we will just present you with the players and recorders that were demonstrated by both the Blu-Ray and HD-DVD camps.
Facts:
Matsushita, Sony already have BD RE devices in the Japanese Market
Sony is producing single layer 23GB BD-RE disks
Matsushita is producing Double layer 50 GB BD-RE disks
Toshiba and NEC announced that they will have commercial machines available at the end of 2005
Memory Tech has HD DVD ROM production line ready for production
Blu-Ray offers 25GB on single layer, HD-DVD offers 15GB
Both can do double layer, BD says it can do triple layer
Blu-Ray has been the recording tool since 2003 (Japan)
There is no pre-recorded Blu-Ray material available to date
HD-DVD is technologically closer to DVD
100 HD-DVD Hollywood titles by Christnas 2005
45% of Hollywood supports HD-DVD
HD-DVD players promised for Christmas 2005
Blu-Ray recorders available at 2006 the earliest
Factors affecting the disk market:
HDTV penetration rate
HDTV programs
HDTV movie titles
Format competition, BD or HD DVD
Device price
Media price
Hollywood studio support:
HD DVD
Warner Brothers, Universal Studios, Paramount, New Line Cinema, HBO
BD
Columbia, MGM, Fox, Disney
Devices
Sony Blue Ray Drive
Blue Ray Disc, DVD, DVD-R/RW, CD, CD-R/RW
Mode HR (3 hours), SR (6 hours), LR (12 hours)
Sony BDZ-S77 Blu-Ray Disc recorder
Blue Ray Disc, DVD, DVD-R & DVD RW discs
Records to 23 GB Blue Ray discs
2 hours HD quality at 1080i or 720p
5 hours of standard DVD quality
Panasonic DMR E700BD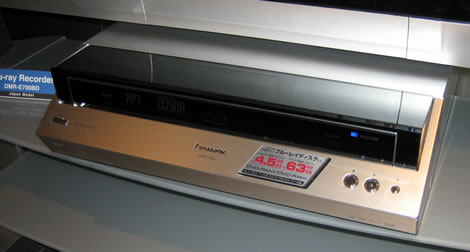 Plays pre-recorded DVD's & CD's
Records on Blu-Ray Disc Blank Media (Only compatible with Blu-Ray Disc Players), DVD-RAM and DVD-R
Uses the single layer 25GB discs and dual layer 50GB discs
Records in real-time using MPEGII compression-Up to 12 hours per Blu-Ray Disc
Digital hi-vision broadcast approximately 4.5 hours - BS digital 24Mbps, and 6 hours - terrestrial digital 16Mbps
CD-R & CD-RW Playback
BenQ
BenQ unveiled a triple writer codenamed BW1000 that supports Blu-ray as well as rewritable CDs and DVDs. The device utilizes a Philips triple-laser optical pick-up module in which the separate blue, infra-red and red lasers share the same optical pathway to provide Blu-ray Disc read/write capabilities, as well as read/write compatibility with DVDs and CDs. Philips Nexperia chipset also powers the device. Initial shipments of this product are expected at the end of this year, while availability for the mass market is scheduled for 2006.
Hitachi
LG Electronics