24. RWPPI/RDVDC Seminar - Page 3
Joint Round Robin Test for Recordable DVD's Seminar
For the logical format recorder tests, 316 combinations were tested, 256 in Video mode, and 60 in VR mode. In Video mode, 92% combinations were passed without retest, and only 8% combinations had some minor issues. In VR mode, 82% combinations passed without retest, and 18% combinations reported some problems. However, 31 combinations with issues were analyzed and fixed in the re-test phase.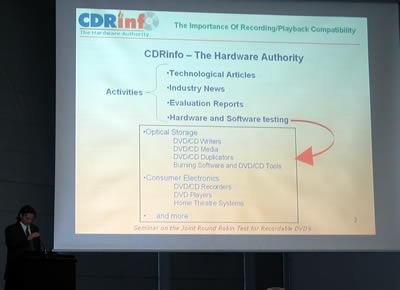 The most interesting tests are the playback compatibility tests. 4 different kinds of NTSC Video mode was used (finalized discs), and all tests achieved a perfect 100% compatibility score for DVD-RW. In another compatibility test, finalized Video on DVD-R with CPRM, PAL Video on DVD-R media, and CPRM contents (VR mode) on DVD-RW were used. this test reported a 95% compatibility score, and the 5% of items on which comments were made have already been resolved through analyses and improvement measures.
In the last series of tests with DVD-R and DVD-RW media, 2x, 4x and 8x media was tested, and only very few problems were reported under combined conditions of high jitter and low asymmetry within the "Not Acceptable" area (6/190~3%). The total scored achieved was 97%.
For DVD-RAM, only good words were heard in the seminar, achieving a 99% compatibility score.