78. future parc
Sony - Page 2
Of course, the PS2 could not be missing from the booth. Sony had the latest thin design of the PS2 console, pluged in a rather big monitor, for maximum gaming experience. Great graphics, great sound, great display, and get the motors running.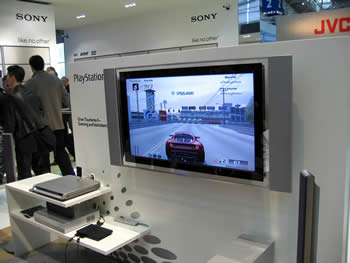 Sony also had the already known "CyberShot" series of digital cameras, but nothing new was introduced.
7.4MPixels (7.2MPixels effective) in your hand, 32MB internal memory, 3x optical zoom, 6x digital zoom and 14x Smart zoom is all you 'll need....
.. and you can even take it underwater!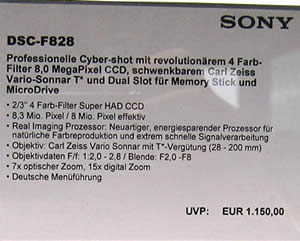 And for the professionals of digital imaging, take a look of what the DSC-F828 has to offer.
The HandyCam DCR-HC39 uses miniDV format media, 1.070.000 pixel CCD, Carl-Zeiss objective "Vario-Tessar", 12x optical zoom, 480x digital zoom and Super SteadyShot.
The DCR-DVD203 uses 8cm DVD-R/-RW/+RW media with 1.070.000 pixels CCD.