25. E-Net
E-net

We managed to meet Mr. Shaf Rasul at Hall 20, the Managing Director of E-Net Distribution Europe. Since its beginning in 1999, E-net has been at the forefront of the evolution in data storage technology.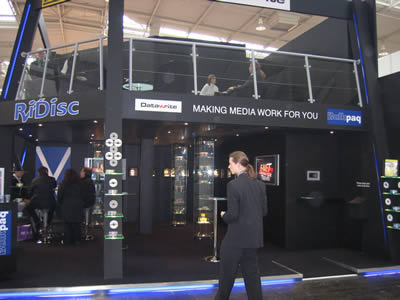 In order to further promot their products, E-net Distribution, in conjuction with InfoSmart, made a large competition between all major colleges in the U.K. to find the best amateur artists. You might think that this is completely inrelevant to DVD media storage solutions, but, take a look at the following images.
They introduced a whole range of optical media, featuring artwork from contemporary young artists, under the brand name of Datawrite.
This range of media is called Scribbles, and is offered as "limited edition" media. The name of the artist is shown below the picture in any case.
The highlight of the E-Net's booth was a piper, playing his bag pipe every hour, making clear E-Net's origin.