43. Plextor
Plextor
After spending quite some time navigating across the booths, we finally found our way to Plextor's booth at Hall 21. The "King Of Quality" was there, showcasing some of the products already released on the market and a couple of new ones, mostly related to video encoding and data storage.
The PX-M402U ConvertX PVR is a hardware personal video recorder, which offers DivX as well as MPEG-2/1 compression for video content, connected through the USB 2.0 interface to your video source (camera, VCR e.t.c). In addition, the built-in TV tuner allows real-time recording from a TV source directly to DVD:
The PlexFlash series has currenltly reached 2GB and comes with a USB 2.0 interface:
A new product here is the PX-EH25L network hard disk. Available with 250GB capacity, the device offers LAN connectivity with 100 Base-TX /10 Base-T (RJ45 connectors). Its weight is only 1.4kg and of course, it is portable:
Plextor's preference with hard disks continues with a couple of external hard disks, available in 40GB and 80GB: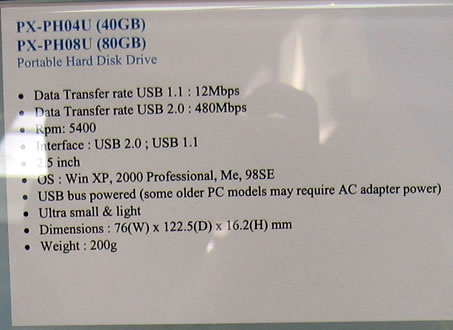 We were not surprised when we saw this DVD player, illustrated in the picture below. Plextor will possibly work with other manufacturers as an OEM partner, in order to expand its line of products in the market. The specific player has been manufactured by the Japanese I-O Data and supports DVD-Video and DivX playback.
In optical storage, we could not hide our dissapointment since there were no new proposals for the PC user.
With DVD recording, the company had faced problems in the past with the implementation of the Sanyo chipset and its eventual integration into the Plextor drive. This was clear when the company delayed the launch of the PX-716A, although its strong technical team in Japan managed to overcome any issues and delivered a generally good DVD recorder. But the resources spent for this effort did not allow Plextor to come up with a competitive price on the market at a crucial time period. In addition, there is no doubt that the PX-716A was not a profitable project for the company, despite its market demand. In order to remain competitive in the marketplace, Plextor released cheaper versions of certain drives.
The company seems to have made a strategic mistake here, by choosing the Sanyo chipset for red laser DVD recorders, although Sanyo has been proven reliable and very strong in the R&D area in the past. It appears that the traditional Japanese cooperation of Sanyo-Plextor is a dead end. We hope that if the company enters the blue laser market, their efforts will meet with better fate.
The PX-716AL shown below is a slot-in DVD recorder, based on the PX-716A.
A S-ATA version of the same drive is the PX-716SA.