63. Sony - Page 1
Plasmon
We met Plasmon's Director of Marketing, Mr. Steve Tongish, who was kind enough to present us the latest Plasmon's products. Instead of talking about DVD media and several other products, we had a very interesting conversetion about UDO technologies and professional optical storage devices.
Plasmon's latest product is the UDO (Ultra Density Optical) desktop drive, that supports up to 30GB media capacity. These drives offer the most secure archival storage technology at an affordable price. The 30GB disc capacity is more than enough, aimed for professional data storage. There are Write-Once and Rewritable media formats.
Unlike magnetic storage media, UDO tolerates a wide range of environmental conditions and can be safely stored for decades in a typical office environment. A stable Phase Change recording technology delivers media life in excess of 50 years, minimising the frequency of data and virtually eliminateing media maintenance.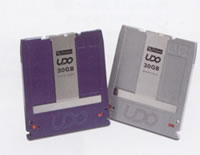 Of course, there is UDO Library Compatibility, and Plasmon offers a wide range of library solutions to further increase media storage capacity. One of them is the G-series, which consist of 5.25 inch Optical Libraries, powered by UDO.