20. KISS
KISS
Bo Lustrup, Marketing Manager of KISS, at Hall 20, presented us the new products of the company. He also told us that they have already entered the US market, by creating their new offices at California.
We saw the new DP-600 and DP-608 players. Both devices supports Windows media 9 files as well as DivX (all versions), MPEG-4, MP3, Ogg Vorbis and other. Ethernet/wireless connection is built in while the DP-608 has also an 80GB HD.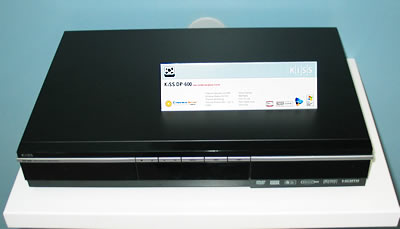 We also saw a 42" High Definition Plasma screen of as well as the Coolview monitor. The HDTV screen supports 16.7 million colors and has a built-in dual TV tuner. Amplifier for speakers, Progressive Scan and Wirless interface to stream media from PCs are also some of the strong features of this device.
The DP-678 and DP-688 High Definition recorders with Ethernet/wireless connection will be available in the market in the near future.