4. LiteOn - Page 1
LiteOn
One of the most important representatives of the Taiwanese Optical storage market, LiteOn -IT, could not be absent from the show. From the very beginning back in 1995 (as Lite-On Technology Corporation), the company has focused on the production of ODD products and nowadays its monthly output reaches over 4,5 million units.
In 2005, and after the agreement between Lite-On IT and HP, Lite-On IT has become the authorized agent to ship DVD writers under the HP name. Just for reference reasons, according to the aggreement, HP will retain ownership of the product roadmap, go-to-market plan, and customer satisfaction and it will continue to invest in research and development and provide intellectual property for future products.
The first HP-branded DVD writer from Lite-On is the HP dvd640i/e, with LightScribe technology.
The drive's specifications include the following:
Write: 40x CAV CD-R, 24x Z-CLV CD-RW, 16x DVD+R, 2.4x DVD+RDL, 4x DVD+RW/-RW, 8x Z-CLV DVD-R.
Read: 40x CD-ROM, 16x DVD-ROM.
Ligthscribe approximate times (full label):
Best quality mode, <36min
Normal quality mode, <28 min
Draft quality mode, <20 min
For those not familiar with the LightScribe technology, we will provide a brief description. LightScribe is a disc-labeling solution that allows burning labels directly onto the upper surface of your CD/DVD media, which is the same disc you burn your data on. After burning your data on the disc, just eject it and flip it over so the drive's laser can "burn" your label design on the top surface of the disc. So three factors are involved here; LightScribe hardware (drive), LightScribe-enabled software and LightScribe media. This media uses a thin dye coating on the label side of the disc that absorbs laser light, triggering a chemical reaction which produces your photo on the disc's surface.
HP branded DVD writer with Light Scribe technology, the DVD640i/e will be launched on the European market by Lite-On IT in March 2005. The HP DVD640i/e will be available for approx €99, incl VAT.
After the introduction of the internal writer, an external version of the HP DVD640i/e will be launched by Lite-On.
The following drive is another DVD recorder with 4x recording support for DVD-RDL/+RDL and 8x for DVD+RW. CDRInfo will publish the review of the new SOHW-1693S very soon.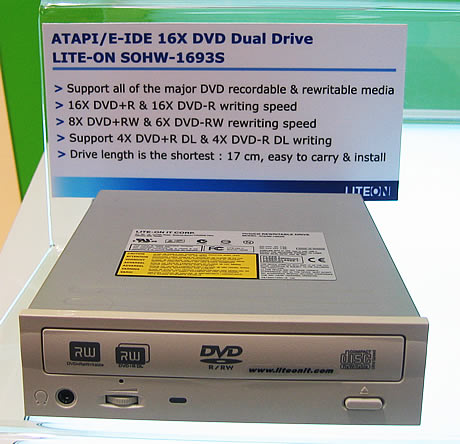 External slim-line DVD and Combo drives were also on display at the company's booth.