32. DivX Networks
DivX Networks
DivX Networks was founded in 2000 by Jerome "Gej" Rota, Jordan Greenhall, Joe Bezdek, Tay Nguyen and Darrius Thompson. DivX Networks at CeBIT 2005, demonstrated DivX 6.0 with new features and hopefully better compression.
Most products supporting DivX were also displayed,
while a big Plasma screen showed the High Definition DivX content.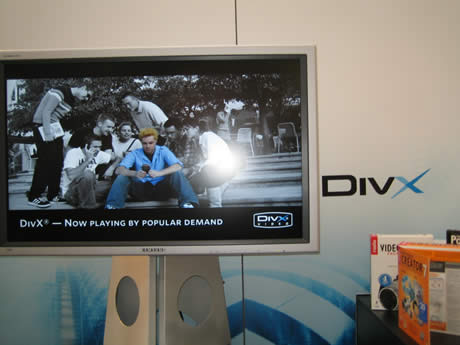 The main feature of DivX is the adoption of the .divx Media Format with:
• Interactive menus that offer unprecedented convenience and control letting the viewer quickly navigate between various scenes and bonus features, and letting them select from multiple audio track and subtitle options
• Chapter points providing flexibility, allowing viewers to quickly jump through movies to find the scene they want to watch
• Multiple audio tracks allowing for native language versions and separate audio tracks for specific speaker configuration within a single DivX 6 file
• XSUB subtitles that let viewers choose between subtitle sets in multiple languages
• XTAG video tags that contain descriptive information like title, author and the video specifications used in the file's creation, streamlining organization and providing valuable information for customer support inquiries
• The .divx file extension helps consumers easily recognize DivX content and further differentiates the advanced features of the DivX 6 format
According to DivX Networks, over 20 million DivX certified players have already been sold. To help fight piracy, DivX is employing DRM (Digital Right Management) for content validation and hopes to further promote the online DRM services meaning, users can safely download original content to their PCs, play them back on desktop DivX certified players at much lower cost than the price of a retail DVD-Video pressed disc. Don't expect to see pressed DivX content at your local stores however, since that would directly conflict with the DVD-Video format. DivX Networks heavily promotes the format as an online service.
Users will have to register their player with DivX in order to be able to playback DRM certified content. The DRM protection scheme, doens't protect the copying of the movie, but rather restricts, its playback in all devices except for those that have been registered. DivX Networks believes that with DRM, and the low prices of online movies, piracy will be reduced.
We have to wait and see if what DivX Networks and some Holywood companies promote, will find its way into consumers living rooms or not...
We asked DivX Networks what is their opinion about Xvid and Nero Digital. The answer was that, Xvid is a very good open source project, mostly for academic use (lack of DRM features and many options to tweak output results), while NeroDigital is mainly focused for the PC market.
When we return to our labs after CeBIT, we will test the new DivX 6.0 codec and present it in article where we will compare its performance against well known Mpeg4 encoders.