Battle of the CPU Coolers
9. Scythe Andy Samurai Master
| | |
| --- | --- |
| Manufacturer | Scythe |
| Model | |
| Price Range | |
| Category | Overclockers |
Scythe Andy Samurai Master is another award winning product from Scythe. It has a more compact design than other Scythe solutions with good performance and six (6) heatpipes for quick heat dissipation.
IIFS – Infinity Interleave Fin Structure
Seeking the better way to efficiently dissipate the heat from total 6 heatpipes to heatsink fins, this IIFS makes the quick & efficient heat transfer ever!
Top-Flow High-End CPU Cooler
"Top-Flow" airflow can cool both the CPU and the motherboard components simultaneously!
Tool Free Easy Installation
Newly developed & "patent pending" mounting mechanism "VTMS (Versatile Toll-Free Multiplatform System) allows user to install the Andy Samurai Master CPU Cooler without any tool and hassle.
Universal Socket Compatibility with AM2
Andy Samurai Master CPU Cooler is compatible for socket 478/754/939/940/AM2 & LGA775. All in one solution for your PC system.
- Full Specifications
Heatsink

Dimensions:
Weight:
Material:

Combined Dimensions: 124 x 135 x 125(H) mm
Weight: 685g
Fan

Dimensions:
Noise Level:
Air Flow:
Speed:
Bearing Type:

120 x 120 x 25 mm
20.94 dBA
49.58CFM
1,200rpm (±10%)
Sleeve Bearing
- Retail package
The retail package of the Scythe Any Samurai Warrior is small. There are pictures of the product and some specifications printed in both English and Japanese:
Opening the package, unveils its contents: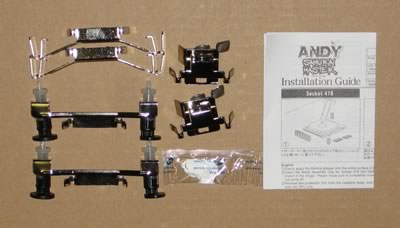 which are
x2 LGA 775 Clip
x2 Socket 478 Clip
x2 AMD (Socket AM2, 940, 939 and 754) Clip
x1 Thermal Paste
2x 120mm mounting clips
User's Manual
The Scythe Andy Samurai Warrior is a very compact CPU cooler compared to other coolers from Scythe.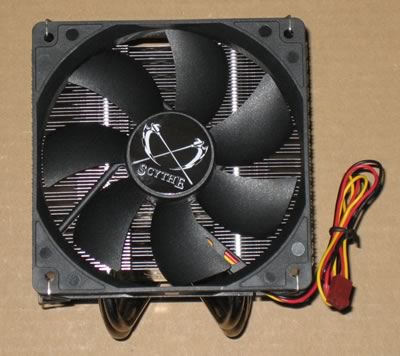 Its exact dimensions can be found below...
There are aluminium fins and 6 (also alumunium) heatpipes. The overall build quality is very good. On top there's a 120mm fan that can easily be replaced with something better.

The front view of the cooler...

The side view...

The top view...
The base is fully made out of copper. We would like it to have a better finish, since it has many noticeable lines and no mirror finish.
- Installation
The installation process is very simple. First you need to mount the two Socket 775 brackets on the preset area (left/right side), that takes no more than a couple of secs. This is completely tool free. The mounting process also uses standard Intel mounting screws, so no need for a motherboard backplate. This is probably the easiest to install big sized cooler of this roundup. You will now need a screwdriver to press the four plastic screws in order to secure the whole cooler to the motherboard, or you could use your thumb for this purpose. The overall weight is kept low (!), if you can call low 685gr for a cpu cooler. The extensive use of aluminium does bring down the overall weight. Be careful to remove the plastic sticker on the bottom before installation.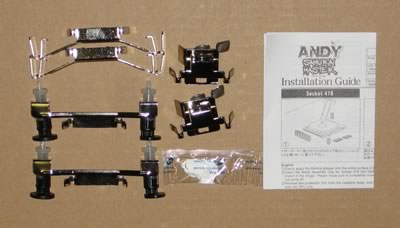 The cooler isn't very big. However due to its design you will be able to install it in only one way, probably with the heatpipes on the left side (facing the memory banks) as shown in the following picture. In general there shouldn't be many problems with the installation, unless your motherboard has many and big heatspreaders surrounding the CPU area.
Placing the motherboard inside the case we can notice the low height of this cooler, at least compared to other ones...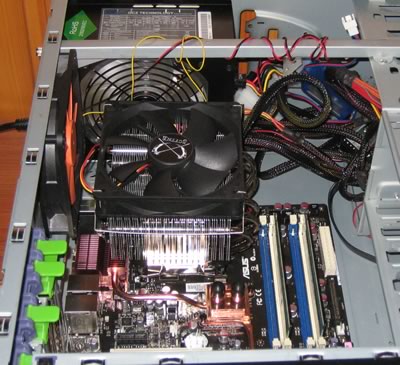 - Ratings
| | |
| --- | --- |
| Retail package | |
| Design | |
| Motherboard compatibility | |
| Installation time | |
| Copper Base quality | |