Battle of the CPU Coolers
12. Scythe Ninja Mini
| | |
| --- | --- |
| Manufacturer | Scythe |
| Model | |
| Price Range | |
| Category | Medium Level/HTPC |
Scythe is a well known cooler manufacturer with several great products. The Ninja Mini CPU cooler aims at HTPC systems and hopefully would be as less noisy solution as Scythe advertises it. The default silent fan (80 x 80 x 25 mm) can be easily exchanged to a 92mm sized fan with 25mm of thickness for higher performance (92mm Fan Clips are included). The Ninja Mini CPU Cooler has an improved mounting mechanism with easier than ever mounting for all sockets! As Scythe advertises, the Ninja Mini CPU Cooler is compatible with socket 478/754/939/940/AM2 & LGA775. All in one solution for your PC system...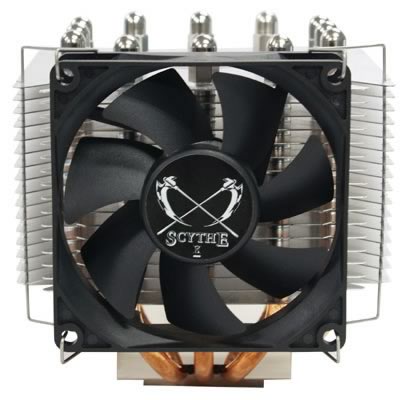 - Full Specifications
Heatsink

Dimensions:
Weight:
Material:

110 x 110 x 115 mm
580g
x6 Heat Pipes
Aluminum
Copper
Fan

Dimensions:
Noise Level:
Air Flow:
Speed:
Bearing Type:

80 x 80 x 25 mm
24.4 dBA
32.2 CFM
2,300 rpm (±10%)
Sleeve Bearing
- Retail package
The retail package of Scythe Ninja Mini is small and simple. There are pictures of the product and some specifications printed in both English and Japanese:
Opening the package, unveils its contents:
which are
x4 Screws
x1 LGA 775 Clip
x1 Socket 478 Clip
x1 AMD (Socket AM2, 940, 939 and 754) Clip
x2 92 mm fan attachment Clips
x2 80 mm fan attachment Clips
x1 80 mm cooling fan
x1 Thermal Paste
User's Manual
The outer box indicates that this cooler can be used in HTPC systems. However opening the box you get a rather unpleasant surprise...this is a nasty big cooler! While we didn't had any problems with our test motherboard, we believe that there would be cases, where this little monster simply won't fit.
The Ninja mini has 17 aluminum fins stamped out like an iron cross with 6 copper heat pipes running through them and a hole down in the middle. The cooler looks identical in four ways, so this means you can rotate it in case it won't fit at your system. The build quality is high, indicating that this product must be good.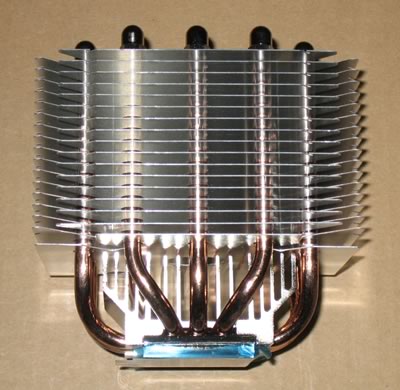 A top view of the cooler...
The included 80mm fan comes with Scythe's logo, and has a 2300rpm specification. The mounting mechanism to the main body is simple, just two attachment clips. With the included 92mm attachment clips, you can easily change the default fan with another one, bigger to further boost the performance.
The base has polish finish and top build quality...
- Installation
The installation procedure is very simple. First you need to mount the Socket 775 bracket, that follows Intel's standard mount mechanism. The holes in the main body allow a long screwdriver to come through the cpu cooler and tighten the screws until the whole structure is secured. No much to explain here, this cooler can be installed in less than 2 minutes. We didn't noticed any problems with the nearby copper heatpipes, despite its big volume.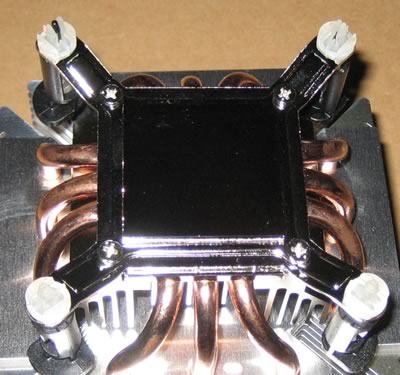 Next step is to attach the 80mm fan. Which is very easy with the included attachment clips.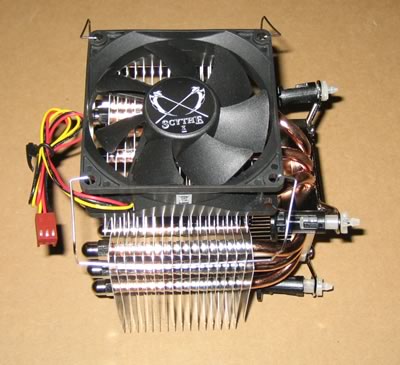 To get an idea of how big this cooler is, just look closely the following picture. The cooler covers one memory bank!
Placing the motherboard inside the case, we can notice the reduced height compared to other coolers...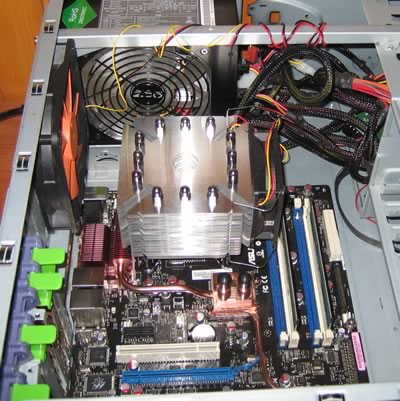 A very large area is covered by the Scythe Ninja Mini...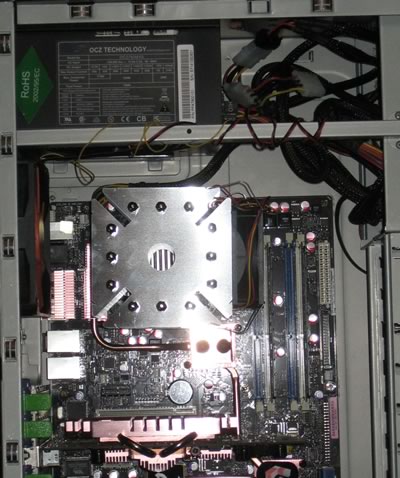 - Ratings
| | |
| --- | --- |
| Retail package | |
| Design | |
| Motherboard compatibility | |
| Installation time | |
| Copper Base quality | |