Battle of the CPU Coolers
13. SunbeamTech.com Silent Whisper
| | |
| --- | --- |
| Manufacturer | Sunbeamtech |
| Model | |
| Price Range | |
| Category | Entry /Medium Level |
SunbeamTech introduced Silent Whisper as a killer for bigger and much higher priced CPU coolers. The Silent Whisper is priced at $20, has copper heatpipes with an elevated thin finned design. The Sunbeam Silent Whisper can be found either for the Intel LGA775 or the AMD K8 socket, so we have two different models.
- Full specifications
Fan Speed
1000 ~ 2300 PWM controlled
Weight
512 g
Socket Type
LGA 775
Application
Intel Pentium 4 all frequencies
Core duo all frequencies
Core quad all frequencies
Celeron D all frequencies
Bearing Type
Ceramic Shaft and Bearing
- Retail package
The retail package of SunbeamTech Silent Whisper is really small and includes only the necessary, meaning -only- the CPU cooler
The Silent Whisper can be characterized as a small CPU cooler with a 92mm fan. There are three U-shaped heatpipes combined with a copper base and aluminum fins. The mounting mechanism is exactly what you find in Intel's stock CPU coolers, using push pins to secure the heatsink through the holes in the motherboard. The CPU cooler uses four-pin connector with the PWM function.
At the bottom we can find some thermal compound pre-applied. The build quality isn't the best we have seen in this roundup, at least compared to other much more expensive coolers. The base is made out of copper and hopefully this will help the cooler get a good position in our tests.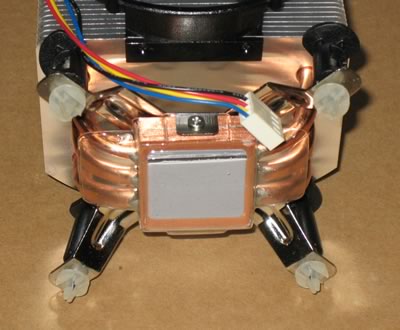 Another view of the cooler, you can notice the six heatpipes:
- Installation
The installation procedure of Sunbeamtech's Silent Whisper is pretty simple, just like installing an Intel's stock cooler. Due to the low volume and minimal design, there shouldn't be any problem with many motherboards. We didn't encountered absolutely any problem with the nearby copper heatpipes...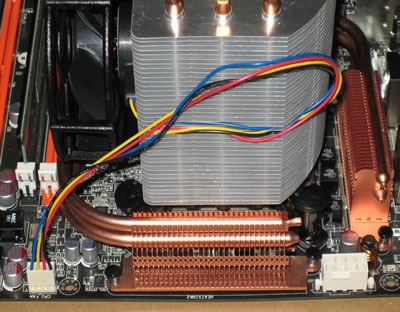 Finally here is how our CPU cooler looks after the installation inside Thermaltake's Soprano case, lot of empty space around the CPU area...
The height is low, at least compared to other CPU coolers...
- Ratings
| | |
| --- | --- |
| Retail package | |
| Design | |
| Motherboard compatibility | |
| Installation time | |
| Copper Base quality | |