Battle of the CPU Coolers
21. Test methodology
Testing so many different coolers at the same conditions is either easy or difficult. First of all we choose to test all the coolers inside a computer case, as most users will in their systems. This is a controvercial subject and most of the coolers manufacturers ask us to do so. Then we tried to choose an ideal motherboard to test all these coolers. What we mean by ideal? The motherboard with the most copper heatpipes that should be a good example in order to test the compatibility of all coolers, especially those who have a massive volume. We looked at all the motherboard we could find in our labs and we choose Asus P5K3 Deluxe WiFi Edition. It seemed as the perfect choice. It's a well known motherboard and it's also full of copper heatpipes. So we started all our tests, to the point the motherboard was -kinda- wrecked... Yes we damaged our test board since one of the backplates couldn't be removed and we had to apply major force. So our advise is NOT to remove the white label that prevents a backplate to be glued to the motherboard...
Our next choice was another Asus motherboard, the Blitz Extreme, with less copper heatpipes. Of course our comments about compatibility are based on the Asus P5K3 Deluxe since we could install all the coolers, even when the motherboard stopped functioning. The testbed configuration is as follows:
CPU: Intel E6750 Retail
Case: ThermalTake Soprano
Motherboard: Asus Blitz Extreme Bios 0904
Memory: 2x1GB SuperTalent DDR3-1600CL7
PSU: Corsair HX620W, OCZ 720W
HDD: WD 80JB
Operating system Windows XP with all the latest updates installed
Software: Intel Thermal Analysis Tool (TAT) & CoreTemp 0.95.4
Thermal Paste: Arctic Cooling TX-2
Idle time: ~30min
Load time: ~30min
Case fan rpm: 1250 rpm (full speed)
RPM speed controllable via SmartFan BIOS or via external hardware controller
In order to produce the highest possible temperature we used Intel's Thermal Analysis Tool (TAT) that offers higher thermal production compared to Prime95 (3-4celcius more!). This has been mentioned in several online forums and was confirmed by our testings.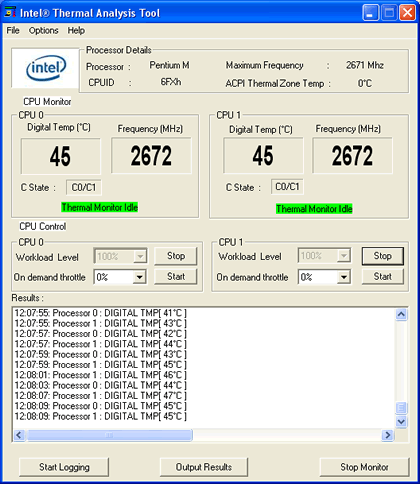 We left both cores running at full load for 30 minutes. All temperatures were logged via CoreTemp 0.95.4. In Asus Blitz Extreme we set various voltages in order to have the same conditions for all tested CPU coolers:
PLL Voltage: 1.60V
DDR3 Voltage: 1.90V
Vcore: 1.3375V (normal)
Vcore: 1.4500V (overclock)
We measured the produced noise from all the coolers with Precision Gold N09AQ Environment Meter. We decided to measure the noise with the two system 120mm fans (by Thermaltake) and of course the noise that the power supply produces. All measurements were made just outside the case, mostly near the side panel and in front, so we had an overall view of the produced noise. Remember that higher rpm means more noise, so we lowered the rpm either via the BIOS smartfan or via the 3pin controller.This way we tested all the coolers either at full rpm speed or at low rpm speed. For all the coolers we used the same thermal compound from Arctic Cooling, the TX-2. We tried to apply the same amount of thermal paste in the same way in all the coolers. All in all we tried to have the exactly same environment conditions in all the tested coolers. Its possible that due to Vdroop (Vcore variations) to have 1-2 celcious difference in performance from system to system. Lastly, all tests were performed with the front panel closed, that produces the worse case scenario in terms of internal air flow.