Battle of the CPU Coolers
22. Results - Idle
Lets start by presenting our test results with the Idle report. In Idle mode, we have the lowest heat production from the whole system. Most CPU coolers should perform more or less the same...or not? From our test results, the Titan Amanda Techreported the lowest temperature. The Intel stock cooler has 43 celcius, while many other coolers had more or less low variations. The Scythe Infinity/Mugen with the two fans had the second best performance with 34 celcius.
Raising the CPU voltage to stabilize the system while overclocking, nothing changed. The Titan Amanda Tech is still the best CPU cooler with 32 celcious, while Scythe Infinity/Mugen and Tuniq Tower 120 are very close.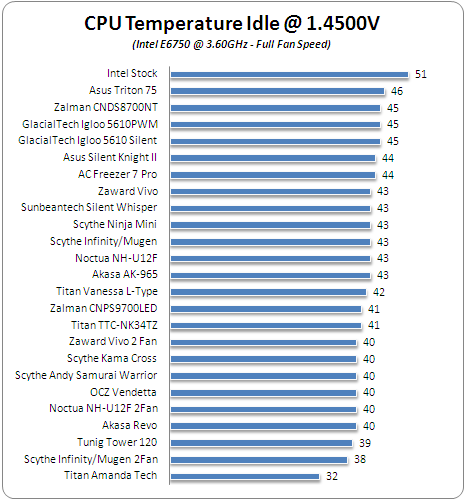 Lowering the rotation speed of most CPU coolers, the temperature start to increase. We don't present you the results of low fan speed and overclock mode, since it isn't ideal to have the lowest noise while overclocking, even if it's wanted. Note that due to a BIOS bug/limitation, CPU coolers with PWM function are not listed, since the Asus Blitz Extreme was raising the rpm in order to keep the CPU temperature low, even withthe 'silent mode' selected in BIOS or in the AI Suite. Also, the Titan Amanda Tech has a PCI card that automatically controls the rotation speed of the fans so we can't have a direct control of this process.
With several coolers missing, the Zalman CNPS9700LED was the best performer, and Asus Silent Knight II followed. Both coolers share the same design and have similar specs. The Tuniq Tower 120 also performed very well.