Battle of the CPU Coolers
15. Titan TTC-NK34TZ
| | |
| --- | --- |
| Manufacturer | Titan |
| Model | |
| Price Range | $20 |
| Category | Medium Level |
Titan has a wide range of CPU coolers either for AMD or Intel processors. This time, we have another CPU cooler from Titan, designed especially for Intel Socket 775 socket. The Titan TTC-NK34TZ promises good performance at a low price. There is another version for AMD based system called TTC-KN32TZ, so be careful before buying this product.
- Features
Silent cooling with new powerful frameless fan
Superior performance by using new heatpipe technology
Copper base to provide fast heat transfer
Aluminum lightweight design
Easy installation
- Full specifications
| | |
| --- | --- |
| Outline Dimension | 90 x 90 x 130mm |
| Fan Dimension | 92 x 92 x 25mm |
| Rated Voltage | 12V DC |
| Rated Current | 0.20A |
| Rated Speed | 2200 ± 10%RPM |
| Airflow | 37.13CFM |
| Static Pressure | 0.5inch H2O |
| Noise Level | <26.9dBA |
- Retail package
The retail package of the Titan TTC-NK34TZ is very simple with no specifications and no product name in front. Not the best solution to impress a user at a retail store. The package doesn't include much also, only the cooler and a tube of thermal paste. The production cost is kept low and hopefully the retail price also: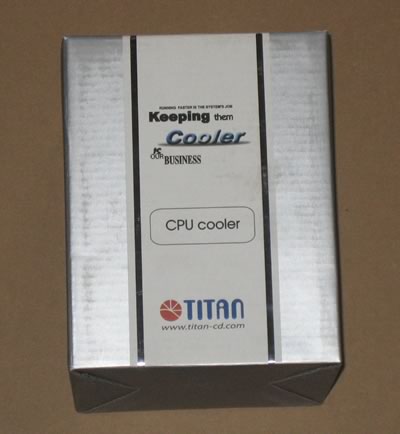 Lets now see our cooler. The design is simple and doesn't include much weird hi-tech gizmos. At the bottom we can see the socket 775 back plate and the four mounting screws. The design follows the idea of a tower, with a frameless 92mm fan supposedly making the cooler less noisy. However it also prevents it from performing its best. The overall size shouldn't be considered as "big", since we have seen much higher and wider CPU coolers in this roundup.
The copper base of this CPU cooler is very smooth but doesn't have a a mirror finish.
There are six heatpipes that absorb heat from the base and deliver it to the aluminum fins. A better picture showing the cooler's mounting system follows.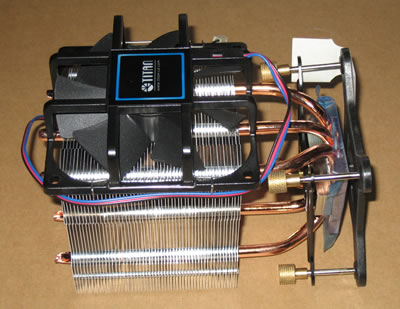 While at the back, we can see the aluminium fins design.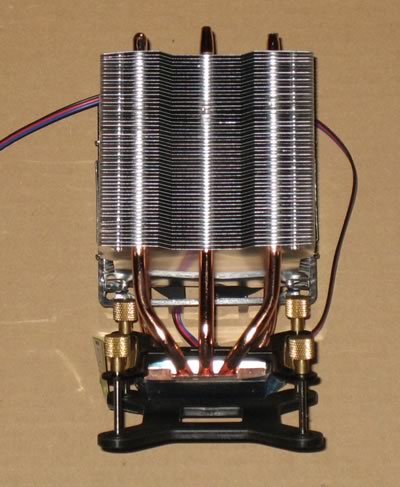 - Installation
The installation procedure of Titan TTC-NK34TZ is very easy. It shouldn't take more than a few minutes. You need to un-screw the back plate, attach it in the back of the board,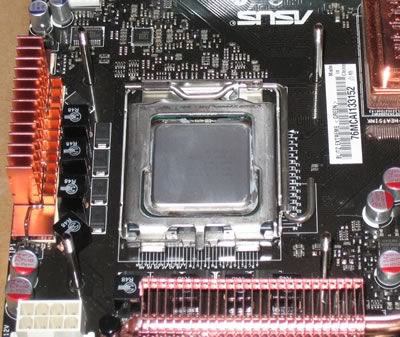 and then, after placing the cooler,
bolt the four screws.
No headaches for this cooler. Let's now see how things are inside the case after the installation. Due to low height and low volume, there is enough free space around the CPU area...
- Ratings
| | |
| --- | --- |
| Retail package | |
| Design | |
| Motherboard compatibility | |
| Installation time | |
| Copper Base quality | |