Battle of the CPU Coolers
16. Titan Vanessa L-Type
| | |
| --- | --- |
| Manufacturer | Titan |
| Model | |
| Price Range | $70 |
| Category | Medium Level |
Titan is a company manufacturing many coolers of interesting design. The Vanessa L-Type is an interesting CPU cooler due to its butterfly shaped design which is at least pleasant to the eye. It has support for both AMD/Intel CPUs so you won't need to purchase another cooler in case your platform. The price is good and we are wondering what its performance would be compared to other coolers in this roundup. The Titan Vanessa L-Type is big enough with 15cm in height. Due to its size, Titan offers another smaller (S-Type) version.
- Features
Universal CPU cooler! For Intel P4 EE 965, E670, Celeron D350J, Pentium D960 & Core2Duo E6700, Quad Q6600, Extreme QX6800, AMD K7(socket 462), K8(socket 754/939/940)
High cooling performance by using heatpipe technology
Elegant butterfly design
25mm big heatpipe
Minimize the weight with aluminum fins
Powerful 120x120x25mm fan to enhance heat dissipation
Bundle with fan speed controller that fits in a 3 1/2" bay or PCI slot" bay
Adjustable fan speeds to achieve silent cooling or ultimate cooling
Including special Nano Blue thermal grease
Different clip options
Easy Installation
- Full specifications
Outline Dimension

150 x 130 x 117.4mm

Fan Dimension

120 x 120 x 25mm

Weight (heatsink+fan)

800 g

Rated Voltage

12V DC

Rated Voltage

12V DC

Min

Max

Rated Current

0.16A

0.33A

Power Consumption

1.92W

3.96W

Rated Speed

1100 ± 10%RPM

2100 ± 10%RPM

Airflow

37.83CFM

82.94CFM

Static Pressure

0.73mm H2O

3.02mmH2O

Noise Level

<22 dBA

<38dBA

No. of Pole

4 Pole

Bearing Type

Sleeve / One Ball / Two Ball / Z-AXIS

Life Time

25,000 / 35,000 / 50,000 / 60,000 Hours
- Retail package
The retail package of the Titan Vanessa L-Type is bigger than other coolers in this roundup. In front we can see various logos and the unique "Vanessa" design: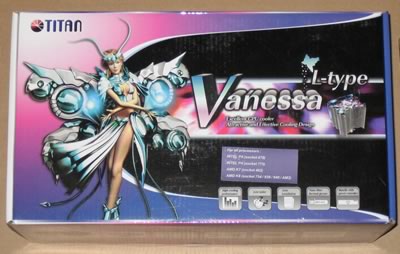 Opening the box unveils its contents. Everything is well packaged and secured.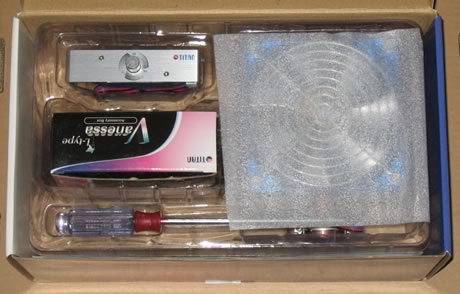 So whats included inside the box? First of all printed instructions for all supported installation sockets (AMD/Intel). A long screwdriver (you will understand later why its needed). Finally a box with several other components and of course a speed fan regulator.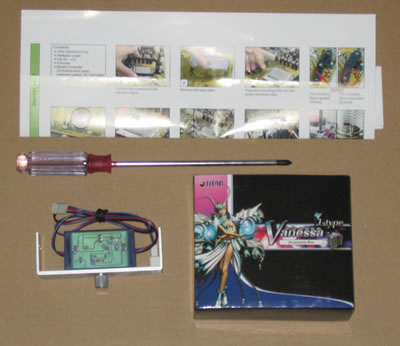 Opening the included box, we get more contents, the installation bases for the various sockets and of course, mounting screws and thermal paste.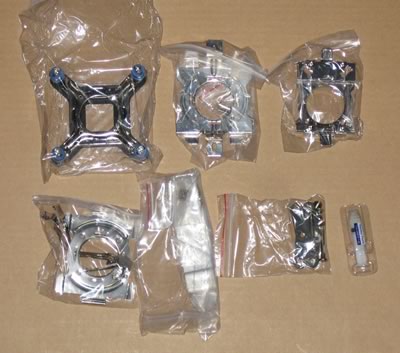 Lets now see our cooler. The design is rather unique, in front there is a big 12cm fan that covers the whole cooler.
Another side view...
On top we can see four holes and a printed plastic logo with the Vanessa fairy figure... The aluminium fins are in the shape of a butterfly and we don't know how efficient this design can be...
The base is made out of copper and its rounded! The only cooler in this roundup with a round base. There are also four pre-installed mounting screws. The installation procedure should be very easy, but later with this. There isn't any mirror finish but the surface was clean and smooth.
- Installation
The installation procedure of Titan's TTC-NK34TZ is easy if you read the included printed instructions. First you need to use the x-shaped back plate. The screws are philips type so you can use the included screwdriver.
The next step is to apply the thermal paste and of course gently place the Vanessa cooler above the processor.
Its about time to use the included screwdriver. At the top there are four holes that can be used to tighten the 4 base's mounting screws. The holes are precise, so you can't miss the screws. After everything is secured you can admire your newly bought CPU cooler.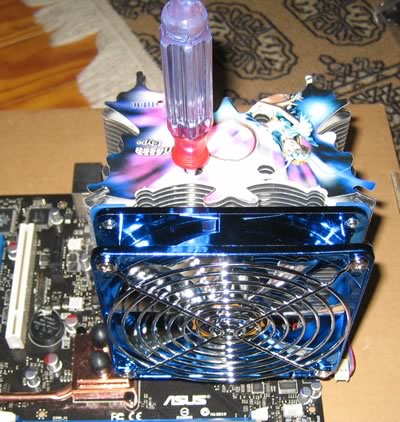 There is no real problem with the nearby heatpipes...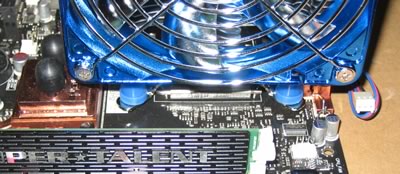 Lets now install this cooler inside Thermaltake's Soprano case and check out what happens. There is enough space between the cooler and the PSU. The 12cm case fan is also far away and all motherboard cables can be installed without any problem.
The height is at the case's limit, but fortunately the side panel closes.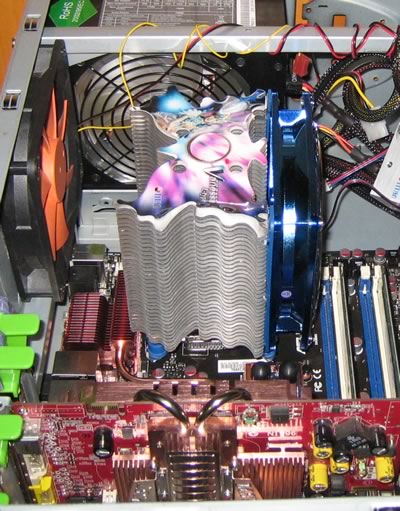 Another view...
- Ratings
| | |
| --- | --- |
| Retail package | |
| Design | |
| Motherboard compatibility | |
| Installation time | |
| Copper Base quality | |