Battle of the CPU Coolers
20. Zaward VIVO
| | |
| --- | --- |
| Manufacturer | Zaward |
| Model | |
| Price Range | $45 |
| Category | Overclockers |
Zaward VIVO is another product with unique design and hopefully good performance. Its main features are the option to include two low noise 92mm fans, the easy installation process and hopefully the low retail price.
- Features
Intelligent and soldering free heatpipe direct touch base!
3 high transmitted U Shape heatpipes for repaid heat dissipation.
Chic cover design, outstanding and differentiation from others.
Dual 92mm round Golf fans with optimized fan speed boost powerful cooling performance dramatically, meanwhile, extremely silent!
Conquer any current Air cooling solution and performance equal to Water cooling ones.
Universal clips, Intel LGA 775; AMD's 754/939/940, AM2. Easy installation and user's friendly.
Bonus Zaward thermal grease enhances thermal efficiency!
- Full Specifications
| | |
| --- | --- |
| Application | Intel Socket 775 & AMD AM2/940/939 |
| Product Dimension | LxWxH=120.7x98.0x151.0+/-1mm |
| Material | Copper Heatpipe base & Aluminum fin |
| Heatpipe | Copper ø6mm x 3 pcs |
| Weight (NET) | 500±20g |
| Fan Dimension | ø92x25mm |
| Bearing Type | Sleeve Bearing |
| Fan Speed | 2,000rpm ± 10% |
| Air Flow | 37.61CFM |
| Noise Level | 24.7dBA |
| Max.Rated Current | 12VDC |
| Life expectancy | 26,000 hours |
- Retail package
The retail package of Zaward's VIVO is small. There is a transparent window for you to see the cooler.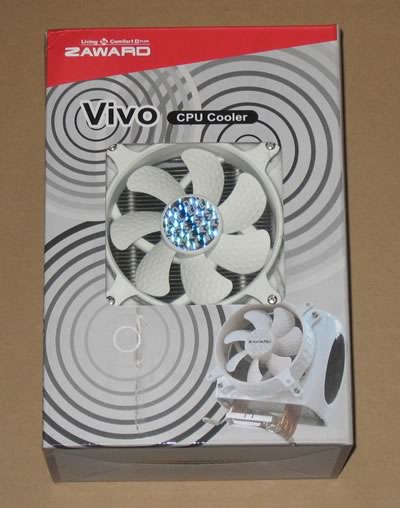 Opening the package, unveils its contents, not many are included, a backplate base for Intel Socket 775, a mounting plate for AM2, thermal paste and a printed manual.
The Zaward Vivo is a compact CPU cooler, at least compared to other much bigger and massive coolers that we have seen in this roundup. Its design enables it to hold two 92mm fans attached inside a plastic case that is afterwards mounted to the main cooler's body. Its not that complicated as it sounds...
The main cooler consists of aluminium fins in high density and copper heatpipes. The mounting mechanism for Socket 775 is pre-installed, there are four screws that are mounted at the backplate with zero-hassle.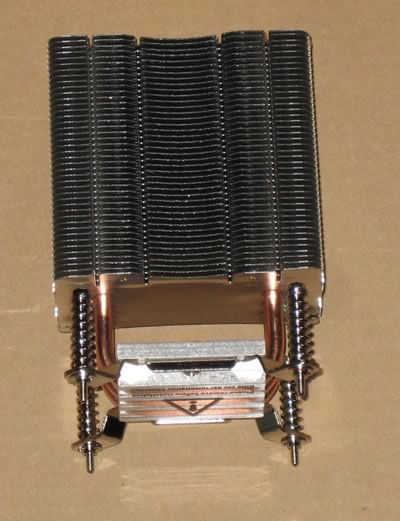 The base is a combination of copper and aluminium. We will see if this is as efficient as other solutions fully made of copper.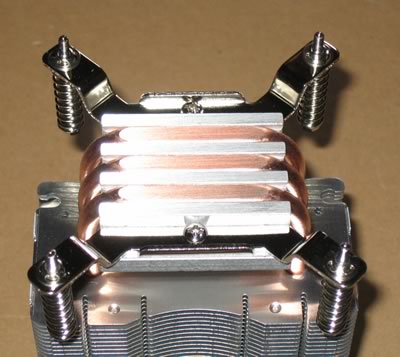 Here is how the cooler looks with its external plastic shell. The 92mm fan is mounted at the plastic shell that consists of two pieces. While the main idea seems ok, the whole structure does look a little bulky and heavy.
- Installation
The installation procedure is very simple. First you need to place the backplate at the motherboard, apply the thermal paste and place the cooler in its place. The four mounting screws are placed exactly above the motherboard's holes so you only need a screwdriver to get everything secured. There shouldn't be any problem with nearby motherboard copper heatpipes due to its design and low volume.
Lets now place and secure the external plastic shell. No major problem here. There are four mounting holes on top and you should use the included screws to keep everything secured.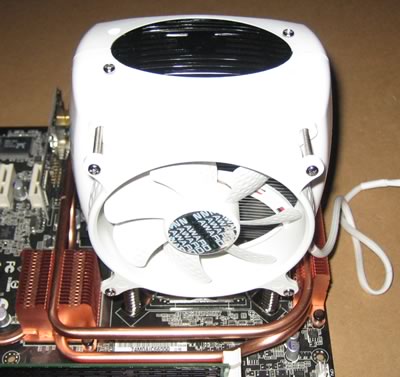 The back of the cpu cooler is left open, unless you mount the secondary included fan.
Placing the motherboard inside the case, we can notice the low height, at least compared to other cooling solutions...
- Installing two fans
Adding the secondary 92mm fan is very easy, and you don't have to remove the main cooler's body, just the external plastic case. Zaward suggests placing the secondary fan in such way in order to suck the air and therefore the first one to blow it. In short case, both sides should have the zaward logo in front...
Here is how the system will look like after getting everything in place.
Another picture from top...
- Ratings
| | |
| --- | --- |
| Retail package | |
| Design | |
| Motherboard compatibility | |
| Installation time | |
| Copper Base quality | |