Battle of the CPU Coolers
10. Scythe Kama Cross
| | |
| --- | --- |
| Manufacturer | Scythe |
| Model | |
| Price Range | |
| Category | Medium Level/HTPC |
Scythe is a well known cooler manufacturer with products that stand out. The Kama Cross is a unique product for CPU coolers with X design, that according to Scythe offers increased performance compared to traditional solutions.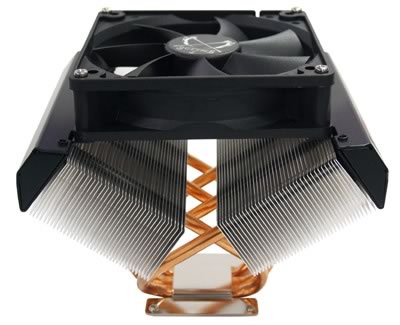 X Structure – Airflow Loss Free Design

Introducing the X structure shape for the new innovation for the CPU cooler market. This X structure allows the airflow to both cool the CPU as well as the components build-on to the motherboard with minimum loss in airflow.
Ready for 120mm Fan Mounting

The default fan (100x100x25mm – Scythe Kaze Jyu 100mm Fan) can be easily exchanged to another 120mm sized fan with 25mm of thickness for high performance user.
4-Way Mounting

4 way (direction) mounting is available. This allows you to configure the optimized airflow direction inside your chassis without any restrictions.
Universal Socket Compatibility with AM2

Kama Cross CPU Cooler is compatible for socket 478/754/939/940/AM2 & LGA775. All in one.
- Full Specifications
Heatsink

Dimensions:
Weight:
Material:

140(W) x 120(D) x 132mm(H)
Weight: 530g
Fan

Dimensions:
Noise Level:
Air Flow:
Speed:
Bearing Type:

Dimensions: 100 x 100 x 25mm
Noise Level: 22.00dBA
Air Flow: 42.69 CFM
Speed: 1,500rpm (±10%)
Bearing Type: Sleeve Bearing
- Retail package
The retail package of the Scythe Kama Cross is minimal. There are pictures of the product and some specifications printed in both English and Japanese:
Opening the package, unveils its contents:
which are
x4 Screws
x1 LGA 775 Clip
x1 Socket 478 Clip
x1 AMD (Socket AM2, 940, 939 and 754) Clip
x1 Thermal Paste
User's Manual
The Kama Cross features a unique crossed X-heatpipe design with a total of 80 fins attached, 40 on each side. A total of 3 heatpipes are used to transfer heat from the bottom base to the fins. Due to the placement of the fan, its very possible that nearby components can also be cooled, like the motherboard heatpipes!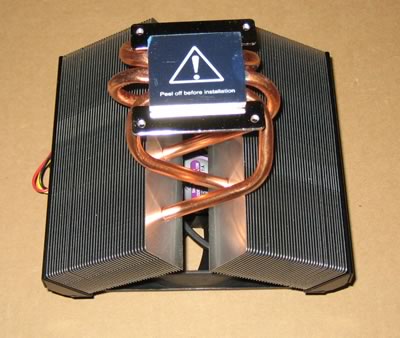 The default fan of 100mm proves to be weak to handle the big heat loads of recent Intel processors especially the Quad core series. Of course you can remove it and add a standard 120mm in case you want to. This way you get greater performance for a small additional cost.

A side view of the cooler...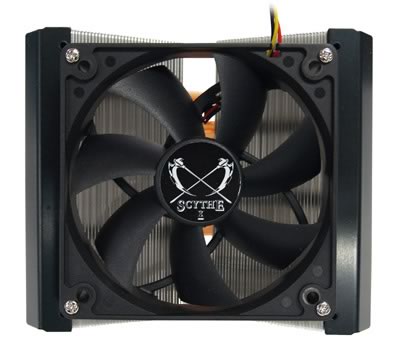 A top view cooler...
The base has is very well polished and the quality is astonishing.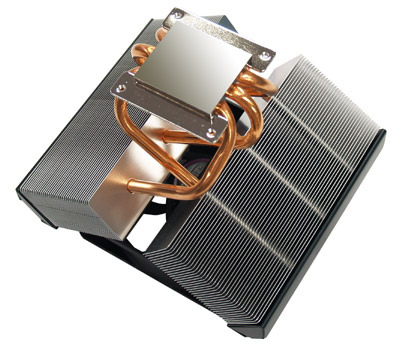 - Installation
The installation procedure is very simple. First you need to mount the Socket 775 bracket, that follows Intel's standard mount mechanism. In order to secure the four plastic screws you need to use a screwdriver and slightly bend them in order to apply the needed force. We are not very sure what will happen if you plan to install/un-install this cpu cooler very often...
The cooler is big sized, due to its X-design...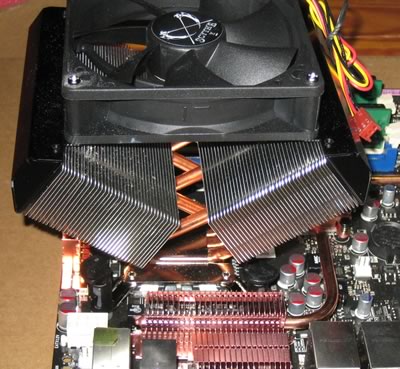 Placing the motherboard inside the case we can notice the height, which of course isn't much compared to other coolers...
The Scythe Kama Cross occupies a large area...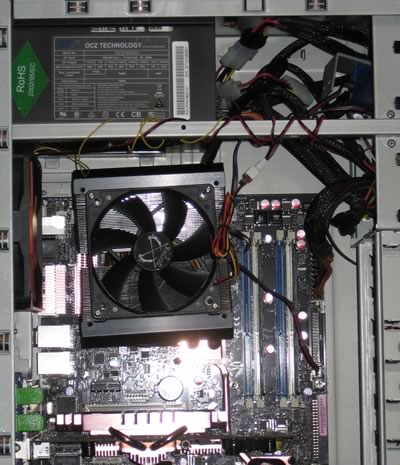 - Ratings
| | |
| --- | --- |
| Retail package | |
| Design | |
| Motherboard compatibility | |
| Installation time | |
| Copper Base quality | |