Battle of the CPU Coolers
17. Tuniq Tower 120
| | |
| --- | --- |
| Manufacturer | Tuniq |
| Model | |
| Price Range | |
| Category | Medium Level |
Tuniq, a subdiary of SunbeamTech introduced to the market the Tower 120 CPU cooler with very good specifications and features. The price is really low and we hope the performance to be up to the level that Tuniq's reputation is...
- Features
Midship Ventilation - Unique 9 blade fan in the heart of cooler offers better performance than regular 7 blade fans
Large heatsinks to maximize cooling performance
120mm fan with ultra silent operation
Perfect for all K8 or P4 CPUs - Specially designed clips provide a secure attachment on motherboard
Fan controller included
High performance thermal grease included (Tuniq TX1 Thermal Grease )
3x heatpipe design provides superb heat dissipation
- Full Specifications
Material

Copper and aluminum fins

Socket Type

Socket 478, LGA775, k8 ( 754 / 939 / 940 )

Fan Speed

1000 - 2000 RPM

Thermal
Resistance

0.16 - 0.21 °C / W

Fan
Dimension

120mm (W) x 120mm (H) x 25mm (D)

Heatsink
Dimension

131mm (W) x 108mm (H) x 153mm (D)

Weight

798g ( without fan )
- Retail package
The retail package of Tuniq Tower 120 is medium sized and includes a transparent window for you to admire the cooler before buying it:
Opening the box, we can see that everything is in place, well secured and organized.
Let's now check what is included:
Lots of good things are included, like: a printed manual, backplates for Socket 775 and K8 processors, thermal compound, two different screw kits (AMD/Intel), - four cover screws to attach the 120mm fan and a fan speed controller bracket. Rather a complete package if you ask me...
The Tuniq Tower 120 has a wave-like aluminium fins design, while there is a 120mm fan in the middle. This kind of design is encountered for the first time in this roundup. The base is fully made out of copper while there are four U-shaped heatpipes (kind of).
The front and back shark shaped fins are a little sharp, while on the left and the right side are flat.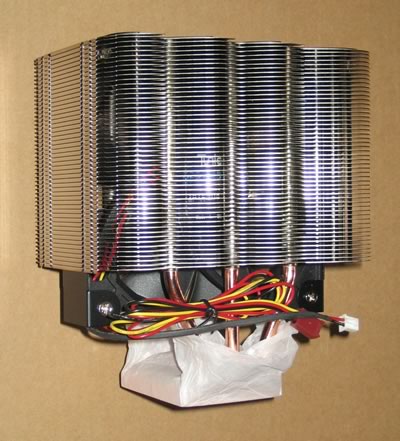 On top there is a black finish, that actually holds the middle fan in its place. If you pull it up, the fan will be also unveiled. So this way you could for example, replace it with something more powerful or less noisy, in case the included fan doesn't satisfy you. There are also four small holes that needs to be filled with the included screws to keep the fan in its place.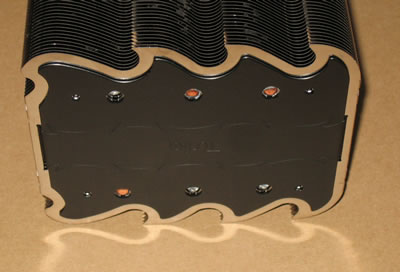 The copper base is...big. No joke, this has to be one of the biggest copper bases we saw in this roundup. there is no mirror finish, but the overall quality is awesome. If you see the copper base from the other side, you will notice a small metal clip which serves for securing the mounting mechanism.
- Installation
The installation procedure of Tuniq Tower 120 has a medium degree of difficulty. First you have to place the back panel plate, then place the H shaped metal between the copper base and secure it at the motherboard. There are four mounting screws, with the corresponding springs that also needs to be placed . Then you select the most outer holes and start securing the structure with the four gold thumb screws. This takes sometime, because in case the copper heatpipes of the motherboard may interfere with the thumb screws. Anyway it isn't so difficult, it just needs practice. After that you are ready to plug the fan header and see how this cooler performs.
There is enough empty space between the motherboard's copper heatpipes and Tuniq's Tower 120.
On the right side, for a moment we were afraid that there might be a problem, but the cables passed through nicely as you can see in the picture bellow.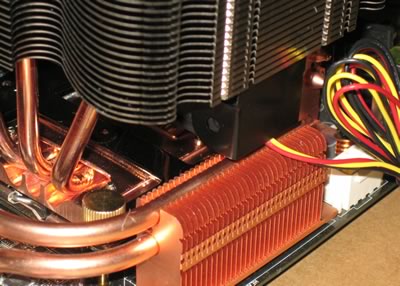 The Tuniq Tower 120 is 15.5 cm in height. This may sound big, however most regular mid / full-tower cases are 19 cm or more in height, so according to Tuniq, there shouldn't be any problem during the installation. Our Thermaltake Soprano case, didn't had any problem with this cooler. Of course large area of the motherboard is covered from the cooler.
Just look, how high this cooler is, I'm wondering if the side panel will close nicely...
And yes, it did closes, despite the fact that there is an extra fan attached to it.
- Ratings
| | |
| --- | --- |
| Retail package | |
| Design | |
| Motherboard compatibility | |
| Installation time | |
| Copper Base quality | |