Battle of the CPU Coolers
11. Scythe Infinity (Mugen)
| | |
| --- | --- |
| Manufacturer | Scythe |
| Model | |
| Price Range | |
| Category | Overclockers |
Scythe introduces Infinity (Mugen) model as a top performer with several interesting features, such as four (4) fan mounting choice, toolless installation and a wide range cooling options.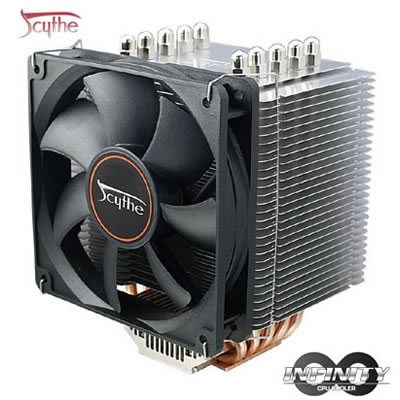 4 Fan Mounting Choice
Users can choose from 4 possible direction to mount the fan to get the best performance out of MUGEN!
Tool Free Easy Installation
Newly developed & "patent pending" mounting mechanism "VTMS (Versatile Toll-Free Multiplatform System) allows user to install the MUGEN CPU Cooler without any tool and hassle. MUGEN CPU Cooler is compatible for socket 478/754/939/940/AM2 & LGA775. All in one solution for your PC system.
Wide Range Cooling
MUGEN CPU Cooler is optimized to get its performance from low-rpm to high-rpm to meet the demand from silent users to heavy-core overclockers.
For super heavy user, quad fan mounting (total 4 fans) is possible for SCINF-1000 (MUGEN CPU Cooler) with SCY-12FC fan clips!
Caution: Due to the total weight being very heavy for quad fan mounting, we strongly advise you to mount and secure the heatsink to avoid damaging your motherboard/CPU. For Quad fan mounting, please arrange this at your own risk (ex. spreading weight by using wires to sling the CPU cooler).
- Full Specifications
Heatsink

Dimensions:
Weight:
Material:

Combined Dimensions: 125 x 116 x 160mm
Weight: 960g
Fan

Dimensions:
Noise Level:
Air Flow:
Speed:
Bearing Type:

Dimensions: 120 x 120 x 25mm
Noise Level: 23.5dBA
Air Flow: 46.5CFM
Speed: 1,200rpm (±10%)
- Retail package
The retail package of the Scythe Infinity is medium sized. There are pictures of the product and some specifications printed in both English and Japanese:
Opening the package, unveils its contents:
which are
x2 LGA 775 Clip
x2 Socket 478 Clip
x2 AMD (Socket AM2, 940, 939 and 754) Clip
x1 Thermal Paste
2x 120mm mounting clips
User's Manual
The Scythe Infinity (Mugen) is one of the biggest -both in height and in volume- cpu cooler you can find in the market.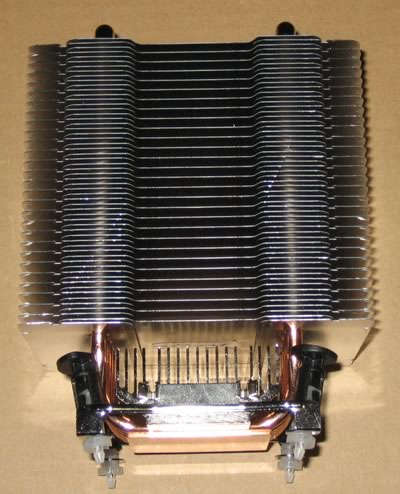 Its exact dimensions can be found below...
There are 29fins with five (5) copper heatpipes running through them. That makes a sum of 10 headers that can be seen from the top. The overall build quality is superb...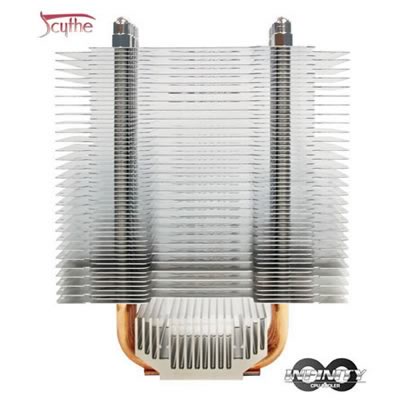 The front view of the cooler...

The side view of the cooler...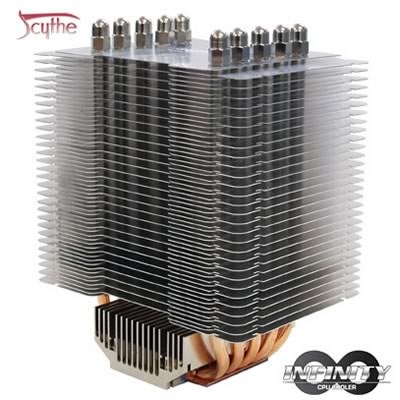 Another View of the cooler...
The base of Scythe's Infinity (Mugen) is made out of copper with 5 copper heatpipes rushing out of it. While at the picture the base looks to have a perfect finish,
a real life picture shows exactly the opposite. Lots of tiny scratches are noticed all over the base, we expected something "smoother" for such a high end product.
- Installation
The installation procedure is very simple. First you need to mount the Socket 775 bracket. This is completely tool free. The mounting procedure also uses standard Intel mounting screws, so no need for a motherboard backplate. This is probably the easiest to install big cooler of this roundup. You will now need a screwdriver to press the four plastic screws in order to secure the whole cooler to the motherboard. What you should keep in mind is that this cooler weights almost 1kg, (960gr to be exact). Adding more fans to it, will require a more radical solution to keep your motherboard safe from breaking it in half.
The cooler is huge... Installing it in our motherboard was problem-free, however we can't be sure that it can be installed in all the motherboards without any problems.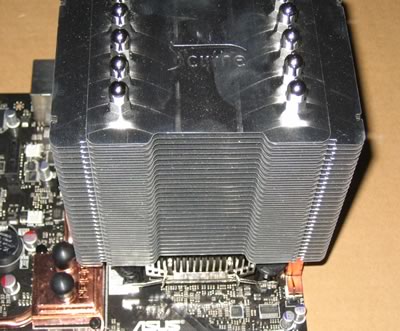 The 120mm fan can also be installed very easy, there are two attachment clips included in the retail package.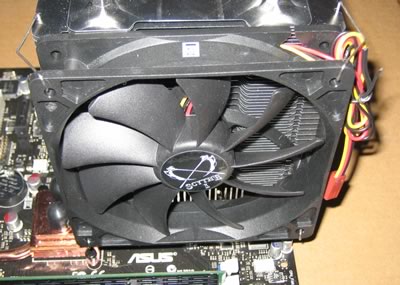 Placing the motherboard inside the case we can notice the height. I'm starting to wonder if the side panel will close eventually...
A very large area is covered by the Scythe Infinity...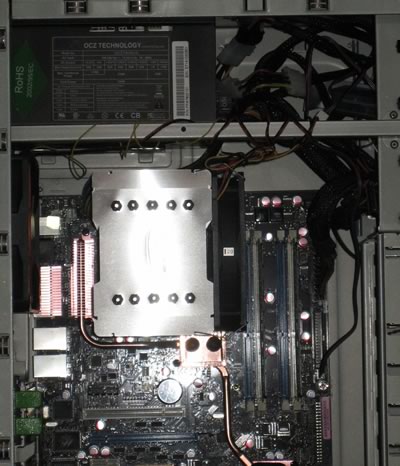 And yes, the side panel did closed without any problem.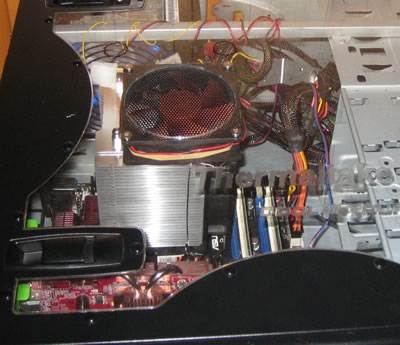 - Installing 2 Fans
As we saw earlier in our introduction, the Scythe Infinity (Mugen) allows the use of up to four (4) 120mm fans. To give you an idea we tried and installed a second fan, manufactured by Scythe..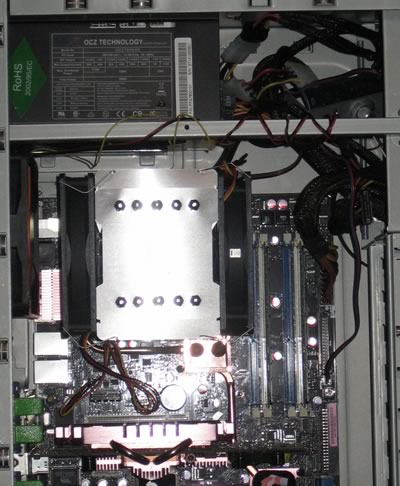 Not much free space is left around the CPU area, we will find later if this configuration is more effective.
- Ratings
| | |
| --- | --- |
| Retail package | |
| Design | |
| Motherboard compatibility | |
| Installation time | |
| Copper Base quality | |