Battle of the CPU Coolers
8. OCZ Vendetta
| | |
| --- | --- |
| Manufacturer | OCZ Technology |
| Model | |
| Price Range | $30 |
| Category | Medium Level |
Using a distinctive, highly efficient heat pipe and fin design developed by Xigmatek, combined with a low-noise fan, the Vendetta is built to tackle heat-induced performance degradation and solves the cooling challenges of today's enthusiast system builds.
While traditional heat pipe CPU coolers typically use a solid base plate design, the Vendetta's three copper heat pipes make direct contact with the processor allowing for maximum heat transfer at a more rapid pace. A novel "dimple" design in the micro-configuration of the stacked aluminum fans adds turbulences, thereby reducing the skin effect of laminar air flow. Moreover, a folded "V" shape of the macro-configuration of the fins adds surface area without compromising the compact design. As a result, the Vendetta offers incredibly efficient cooling area comparable to much larger coolers which is reflected in its performance.
The ultra-quiet fan cools without disruption with its anti-vibration rubber connectors to reduce excess noise, resulting in quiet, yet extremely effective performance. Because the OCZ Vendetta has a compact design, even the most crowded cases can accommodate the cooler with ease.
- Specifications
For Sockets AMD 754/755/939/AM2, Intel LGA775
3 Pure Copper heat pipes for superior heat dissipation
Pure Aluminum fins for ultimate durability
1 year warranty
Fan Specs

Size: 92mm
Rated Voltage: 12V DC
Fan Speed: 1200-2800RPM
Fan Air Flow: 39-54.6 CFM
Noise Level: 22-34 dBA
Bearing type: ball
Connector: 4 pin with PWM

Dimensions: Heatsink: (L)97 x (W)79 x (H)134mm
Part Number: OCZTVEND
- Retail package
The retail package of the OCZ Vendetta is middle sized. Its contents are well packaged and secured inside the box:
It includes a 92mm fan with rubber connectors, mounting hardware for supported CPUs and thermal compound:
The OCZ Vendetta is made our of a hybrid copper/aluminium base with V-shaped copper heatpipers and aluminium fins.
The base consists of three copper strips with thick aluminium fins between.
On top there is the OCZ logo...
- Installation
The OCZ Vendetta doesn't take much time to assemble and install. First you have to secure the Intel stock motherboard screws as the picture shows:
Then you have to mount the 92mm fan with the included rubber connectors as shown.
A good idea is to install the fan after you secure the CPU cooler on the motherboard. This will allow to easily fasten the mounting screws or else you will have to bend them, since the fan is right above them.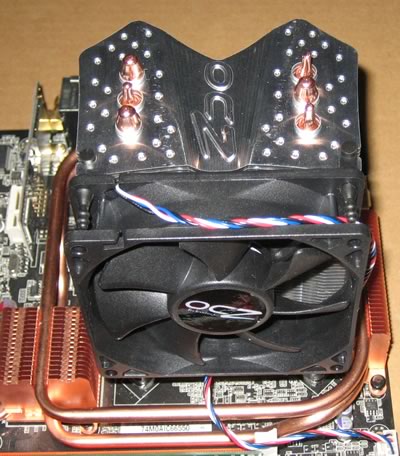 Due to its small volume and design, there shouldn't be any kind of problems even with specially designed motherboards. Finally here is how our CPU cooler looks after the installation on Thermaltake's Soprano case.

The OCZ Vendetta doesn't take much space on your motherboard...
- Ratings
| | |
| --- | --- |
| Retail package | |
| Design | |
| Motherboard compatibility | |
| Installation time | |
| Bottom Base quality | |