20. F16 vs. SA300 - Page 3
Memorex D² DVD±RW/DL Recorder - Page 19
F16 vs. SA300 - Page 3
For checking exactly what the Memorex F16 reports, we used three different media, burned with other recorders. The media were measured using the well known AudioDev SA300 DVD CATS system at 1X.
The drive is capable of reporting PI/PIF errors, so we will compare those measurements at various reading speeds:
Please note that the posted results are only valid for the specific tested Memorex F16 drive. Using other drives, even another F16, can produce totally different results. Be aware!
#2nd Test Disc - PISum8/PIF Comparison - 8X Reading speed
The F16's PI trend differs from the CATS as well as having much lower values. PIF is much closer in both trend and values but it is difficult to tell whether indeed the F16 at 8X is an accurate reader since the particular disc's levels for PI and PIF are quite low, since it appears that the difference between the F16 and CATS is most noticeable when the levels are high.
#2nd Test Disc - PISum8/PIF Comparison - 6X Reading speed
In general, the F16 seems to report much lower levels possibly leading to a wrong conclusion as to the disc's true quality.
#2nd Test Disc - PISum8/PIF Comparison - 4X Reading speed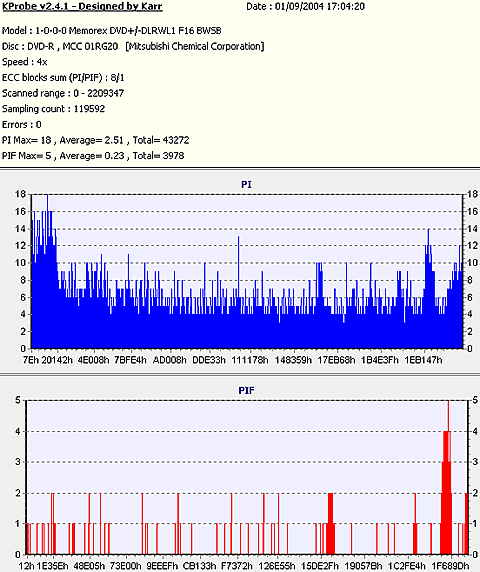 At 4X, the differences in level between the F16 and CATS remains but is not so great. The trends seem to be about the same. At all speeds, the biggest differences is in the PI levels where the values are an order of magnitude off.