Memorex DVDs Come With Embedded Burning Software
The new Memorex SimpleSave Photo & Video Back-Up record-once DVDs come with an embedded software that automatically finds, and backs up photo and video files on PCs and connected drives. This means that you can just insert the new disc on your DVD burner and wait. The software automatically searches for photo and video files. With just one click, the software burns the files back onto the very same disc that the software launched from.
The pre-installed software on the Memorex DVDs is auto-launching and requires no installation.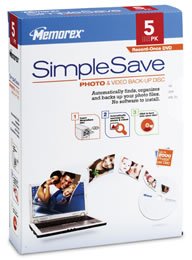 For the happy snapper who took more photos this summer than a single disc can hold, the SimpleSave software will automatically alert them to how many discs are needed to back up all photo and video files.
Other options also offer the choice to designate which file types should be located and saved, as Memorex SimpleSave discs recognize more than 40 different image and 50 video file formats.
"The process of backing-up your PC can be a laborious, time-consuming and complicated task," said Carla Pihowich, Memorex brand manager, Imation Corp. "Many consumers don?t want the hassle of having to deal with complicated back-up software, and yet they know they should be taking steps to preserve their irreplaceable digital photos. Memorex has come up with a simple solution that takes the pain out of digital photo back up, so consumers can focus on other things, like family time and vacation fun."
Memorex SimpleSave Photo & Video Back-Up DVDs are available in packs of five discs with slim storage cases for a suggested retail price (SRP) of $14.99 per pack. The discs are available this summer at Fry?s Electronics and OfficeMax stores in teh U.S..