23. Conclusion
Memorex D² DVD±RW/DL Recorder - Page 22
Conclusion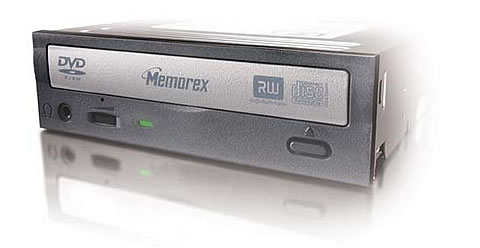 The F16 from Memorex is a fast CD reader with good seek times. We would like to see an improvement in the area of error correction, which was below average to average.
In the DVD reading tests, the drive displayed good performance, with error correction being very good this time. DVD ripping with DL pressed discs was also fast.
The performance of the drive when reading AudioCD's was very good. The reading speed was high while, according to Nero's Advanced DAE test, the drive qualified with a perfect score of 100. The good behavior continued with the protected AudioCD's which the Memorex F16 can read, rip and backup without problems.
Protected games backup is not a strong point of the F16 drive. However it did manage to make working backups of SafeDisk protected games up to v2.8.
The 48X recording speed for CD-R media is high and there are not too many recorders that support this speed in combination with the other features that the F16 has to offer. The writing quality at such speeds revealed slightly increased levels of C1 errors and some C2, while the Jitter levels were also increased. But we cannot condemn the drive keeping in mind that the safest CD recording is achieved mostly at 16X or 24X.
According to our DVD recording tests, the drive supports CAV strategy for the 16X DVD+R which is a good feature. The time needed for such writing is 5:45min, a rather low time. The recording speed for the DVD-R format could be higher than the currently supported 8X. As for the writng quality with both formats, this needs improvement. The reported PI/PIF levels, as they were reported with Kprobe and Plextools, were high. This is something that, with a newer firmware upgrade, will probably be fixed. Despite this, the writng quality for Double Layer media is very good.
Another imprortand issue that should be added in the drive's features is that of bitsetting. We expected it to be included, since the drive is LiteOn based. The produced burned disks, despite being of good writing quality, were not recognized in our standalone DVD players from Philips and Pioneer.
This drive can be used for DVD media error measurements, which is an advantage for the F16.
At the time of this review, the price for the retail package as posted on the Memorex website was US$149.99, which we consider pricy since there are other drives available on the market with similar specifications for below $100.
- The Good
CD reading speed
Excellent Double Layer media writing quality
Can backup SafeDisc2 v2.8x protected discs
Very good DVD error correction
Can overburn up to 99mins
Supports protected Audio discs (CDS200, Key2Audio)
Accurately backup "Aiko Katsukino - The Love Letter", Audio protected disc
Can be used for DVD media error measurements
High DVD ripping speed
RPC1 utilities
16X DVD+R media included in retail package
Supports booktype change with firmware revision BWSE
- The Bad
Poor CD error correction
Doesn't accurately backup SafeDisc2 v2.9x+ protected discs
Doesn't support reading of DVD-RAM media
Retail package didn't include any DVD+R DL media
Doesn't support DVD overburning
- Like to be fixed
DVD writing needs improvement, drive produces high PI/PIF error rates (could be fixed with firmware upgrade?)
Limited support media list for 16X/12X DVD+R writing
High C1/C2 errors with specific media at 48X
Retail price