10. C1 / C2 Error Measurements
Memorex D² DVD±RW/DL Recorder - Page 10
C1 / C2 Error Measurements
We measured the C1 / C2 error rate on the recorded discs we burned at the maximum supported writing speed of 48X. The software we used is PleXTools Professional v2.16, and more specifically the built-in Q-Check utility. The reader was the Plextor PX-712A (firmware v1.04).
BenQ 80min 52X CD-R @ 48X
Maxell 80min 48X @ 48X
SKC 80min 52X @ 48X
MMore 80min 52X @ 48X
TraxData 80min 52X @ 48X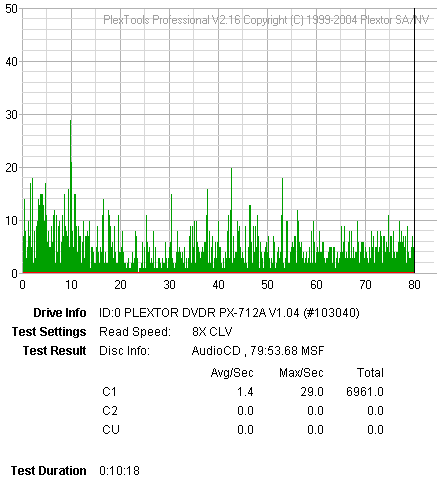 TY 80min 48X @ 48X
Waitec 80min 52X @ 48X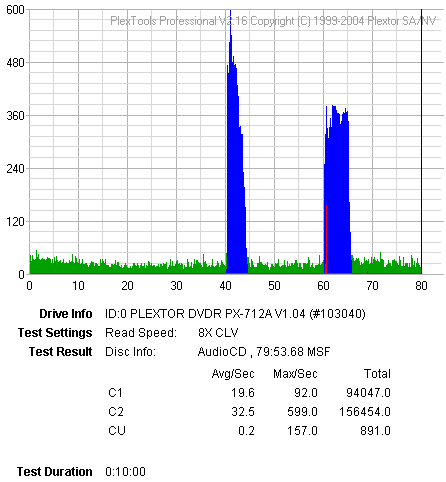 - Summary
The CD writing quality is good for the Memorex drive if we keep in mind the high recording speed of 48X. Most media burned ok, while in two cases C2 errors were reported. However, in both these cases there was no error with CDSpeed.
- Appendix
| | | | |
| --- | --- | --- | --- |
| Media Label | ID Code | Manufacturer Name | Lead Out TIme |
| BenQ 80min 48X | 97m22s67f | Daxon Technology | 79:59.74 |
| Maxell 80min 48X | 97m15s17f | Ritek | 79:59.70 |
| SKC 80min 52X | 97m26s26f | SKC Co., Ltd. | 79:59.73 |
| MMore 80min 48X | 97m17s 6f | Moser Baer India, Ltd. | 79:59.74 |
| TraxData 80min 52X | 97m15s17f | Ritek | 79:59.70 |
| Taiyo Yuden 80min 48X | 97m24s 1f | Taiyo Yuden | 79:59.72 |
| Waitec 80min 52X | 97m28s26f | Multi Media Masters & Machinery SA | 79:59.74 |