20. DVD+R DL - Page 1
BenQ DW1620A DL Recorder - Page 20
DVD+R DL - Page 1
- DVD+R DL BookType Setting
The DW1620A is capable of writing Double Layer discs, nearly doubling the capacity that can be stored on one disc. BenQ was one of the first companies to add DL support in DVD+R recorders. For our tests, we used the only two available DVD+R DL media from Verbatim and TraxData.
The BenQ Book Type Management v8.3 program ensures media backward compatibility with older DVD players. This program allows us to freely choose a DVD+RW, DVD+R or DVD+R DL disc to be written as DVD-ROM book type, the most recognized disc format for DVD players. There is also an easier way to change the Booktype setting, from within Nero 6.0 right before the writing process begins, just tick the DVD-ROM box.
- Writing Tests
We burned two DVD+R DL discs with DVD-Video content. The source disc was "Gladiator Movie - Special Edition" disc1 with a total size of 6.86GB. First, we transferred the movie to the hard disc with DVD Decrypter as ISO format (single file). Afterwards, we used CopyToDVD v3.0.0.26. After choosing the "GLADIATOR.ISO" image we selected the BenQ DW1620A DL burner.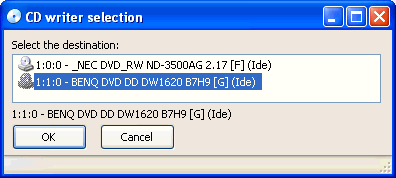 After pressing "OK", the burning procedure started, without any unexpected delays:
The writing process was finished after 40:03minutes. The average speed was 2.25X as reported by CopyToDVD software. The recorded disc had DVD-ROM format booktype setting.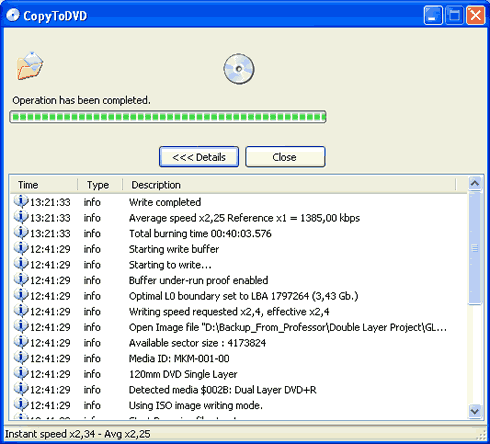 The drive didn't have any problems writing the Ritek DL media, while the burning time was 5secs longer:
For comparison reasons, we post DL burning results from other writers, with the same disc content and same recording software:
| | |
| --- | --- |
| Drive | Time (mins) |
| NEC 2510A | 37:17 |
| BenQ DW1600A DL | 40:16 |
| BenQ DW830A | 39:14 |
| LiteON SOHW-832S DVD+R DL BookType | 38:33 |
| LiteON SOHW-832S DVD-ROM BookType | 38:36 |
| SONY DRU-700A | |
| LG GSA-4120B | 38:12 |
| ASUS DRW-1604P (4X) | 23:10 |
| ASUS DRW-1604P (2.4X) | 38:08 |
| Pioneer DVR-108A (4X) | 23:10 |
| Pioneer DVR-108A (2.4X) | |
| BenQ DW1620A | 40:03 |
As was expected, the ASUS and Pioneer drives have much lower recording times, since they support the 4X DL writing speed.