BenQ's True 4K UHD HDR Home Cinema Projector Debuts at Less Than $2000
BenQ is launching the CineHome HT2550 DLP projector, offering movie aficionados 4K UHD HDR cinematic quality right at home and at a great value.
Producing 8.3 million pixels for true 4K UHD performance, BenQ's HT2550 projector uses 0.47" single-DMD-chip DLP technology. This minimizes the projector's profile for a compact design. Its 4K-optimized optical system produces ultimate image precision and color accuracy without artifacts that are known to plague LCD projectors. In addition, it employs BenQ CinematicColor technology and a RGBRGB color wheel to meet the film industry's highest standards of color accuracy: over 96% coverage of Rec. 709 color gamut with precise Delta E<3 performance.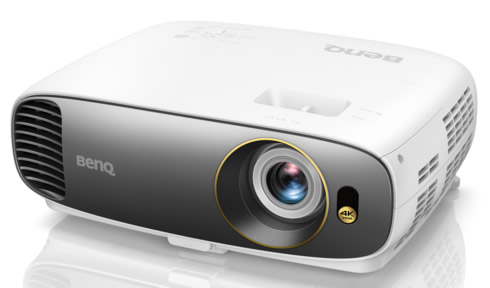 The HT2550's 4K video quality is supercharged by high dynamic range (HDR10) support, offering greater brightness and contrast with auto image optimization. Its performance is further enhanced by motion-adaptive edge pixel enhancement, color algorithms, flesh tone rendition and proprietary CinemaMaster Video+ and CinemaMaster Audio+ 2 technologies. With full support for the latest HDCP 2.2 copy protection, it allows users to enjoy all the choices for 4K content.
The projector is designed to set up fast with auto keystone correction and 1.2X big zoom, overcoming any installation hassles with ease. In addition, the HT2550 becomes a smart projector by simply connecting an HDMI dongle, such as Google Chromecast, Roku, or Amazon Fire TV Stick, to stream TV shows, movies, sports, and even video games to the big screen.
The BenQ HT2550 will be available in North America in Jan. 2018 for under $2,000 retail.