9. Writing Quality Tests - 3T Jitter Tests
BenQ DW1620A DL Recorder - Page 9
Writing Quality Tests - 3T Jitter Tests
On this page we present the 3T Pit & Land Jitter graphs when using various media burned at the 40X CAV writing speed.
- 3T Pit results
The drive's performance was very good with most media used. The only media that had very high 3T Pit jitter values was Waitec 52X media, which also had C2 errors. The best results came with BenQ 52X media.
- 3T Land results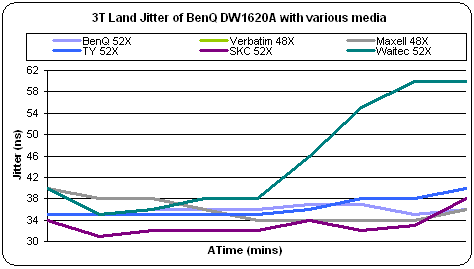 Again the worst performance came from Waitec 52X media, while SKC 52X media had really low values.
On the following page we check the C1 and C2 error rates of the same discs, to come up with more specific conclusions.