22. DW1620A DL vs. SA300 - Page 1
BenQ DW1620A DL Recorder - Page 22
DW1620A DL vs. SA300 - Page 1
The BenQ DW1620A can report PI and Jitter values from burned DVD recordable/re-writable media. What's rather disappointing is that the drive cannot read the media at high speeds, since even at the 8X reading speed setting, the real speed is around 0.5~1.3X. The scanning interval also is not 1ECC but 8ECC, dropping the accuracy of the drive, since the sample count is low.
Please note that the posted results are only valid for the specific, tested BenQ DW1620A DL drive. Using other DW1620A DL drives can produce totally different results. Be aware!
#1st Test Disc - PISum8/PIF Comparison - 8X Reading speed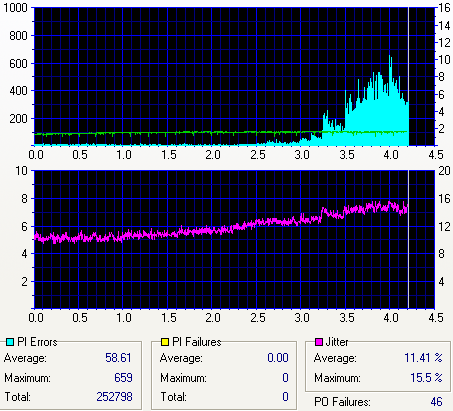 The PI and Jitter error rate trend lines follow that of the SA300 scans, which is very encouraging. However, we have to see how the drive performs with the other test media.